Located in the Okanagan Valley in British Columbia, Kelowna has more than 20 different wineries that you can explore and taste some wine at. The Okanagan Valley possesses multiple soil profiles and diverse microclimates, including glacial winter and long hot summer days with extra sunlight, thus producing unique wine.
As a wine lover, Kelowna was on my list of must-visit places in British Columbia. When I decided to go there, I wanted to visit as many wineries as possible in 2 days. After thorough research, I narrowed it down to the list of 5 wineries below. Each winery has a unique vibe to it. I invite you to visit them all. But, you might not have a lot of time, so I will give you some details on each winery to plan accordingly.
If you're curious, the wine varieties1 from the Okanagan valley includes: 
For Reds:
Merlot

Pinot Noir

Cabernet Sauvignon

Cabernet Franc

Syrah

Gamay Noir
For Whites: 
Pinot Gris

Chardonnay

Gewürztraminer

Riesling

Sauvignon Blanc
As for the Kelowna region, in particular, you can find:
 Pinot Noir

 Chardonnay

 Pinot Gris

 Riesling
Here are the top 5 wineries to visit in Kelowna: 
Cedar Creek Estate Winery
Cedar Creek Estate Winery, nestled on the north side of the Okanagan Valley, started making wine in 1987. They currently offer three (3) different collections:
the estate collection, which is produced from their estate vineyards and blended

the platinum collection, which is made from singles vineyards sites across the valley

the aspect collection, which is their highest quality wine. 
Tasting Experience
For 22$, you get to taste 5 different award-winning wines. During summertime, you get to enjoy the tasting on their terrasse. It's recommended to book your experience online. 
In terms of location, the view of the lake is exceptional. Sipping wine on their terrasse all the while enjoying the view is worth it. It could be a fun date idea!
Restaurant
The winery's restaurant, the Home Block, offers locally sourced dishes that pair with their wine offering. Their menu includes wine-paired lunches that consist of 2 courses and wine-paired dinners that consist of 3 courses. 
Disclaimer
This was my favorite among the 5 wineries we visited in Kelowna. I even signed up for their Platinum Club, and, to this day, I receive 6 bottles shipped for free three times a year. A must-have for me in every shipment is the Riesling and the Viognier.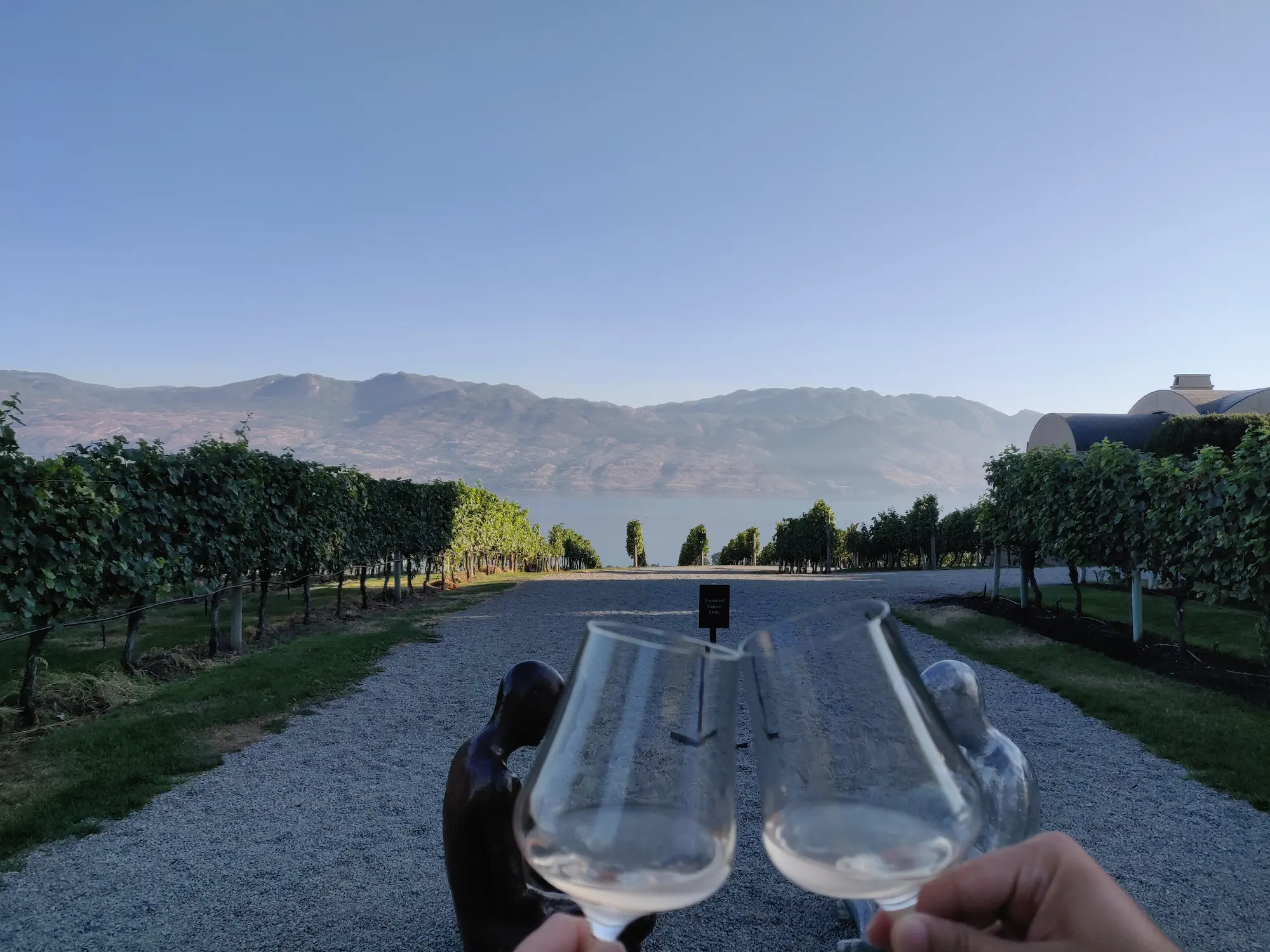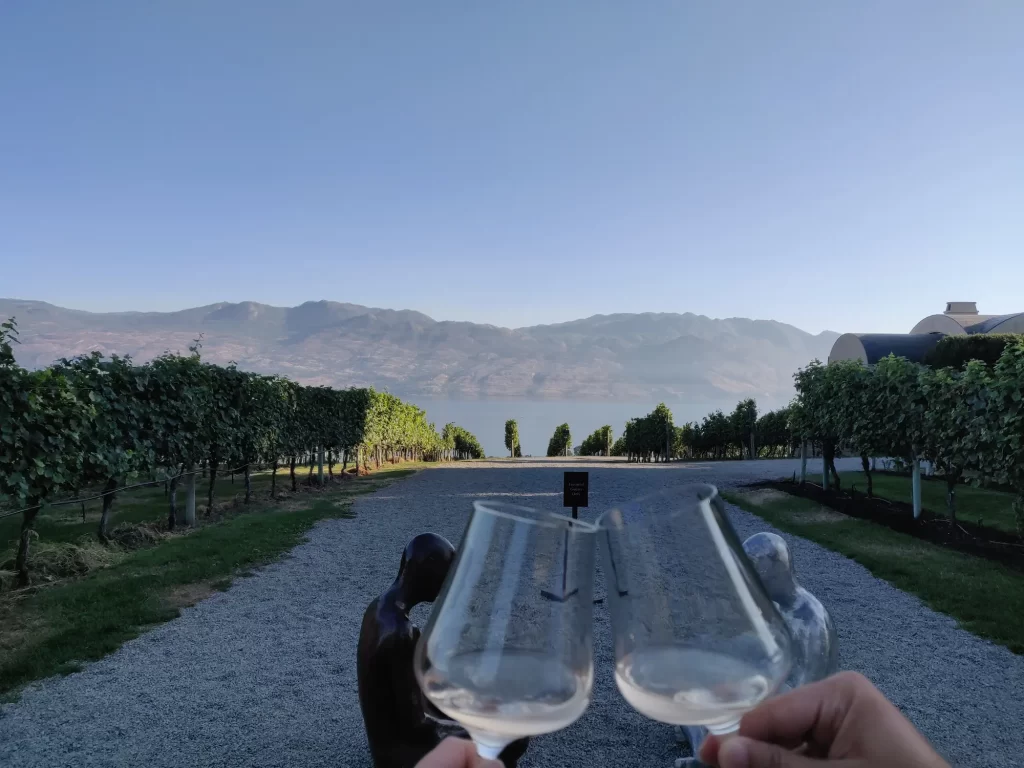 Mission Hill Family Estate
Mission Hill Family Estate, a multi-award-winning winery, relies on old wine-making techniques combined with modern technology. It's a must-visit winery in Kelowna. They offer three (3) collections:
the reserve collection is available in limited quantities as they are produced from hand-selected blocks of grapes

the terroir collection is produced from the top 3% of their estate 

the legacy collection is made from the top 1% of their estate and aged 24 months in bottles before being sold.
Tasting Experience
The experience consists of tasting some of their terroir and reserve wine for 45min at a cost of 30$ per person. The wine-tasting area is beautifully designed. Reservation is also recommended. 
When you're done with the tasting experience, I suggest you take a walk around the property. You'll be surrounded by the vineyards, the beautiful architecture, and the mesmerizing lake. 
Restaurant
In the summer you can enjoy your lunch on their terrace. During winter, you'll be served in an inner room, a 2-course meal, locally sourced, paired with their wine offering.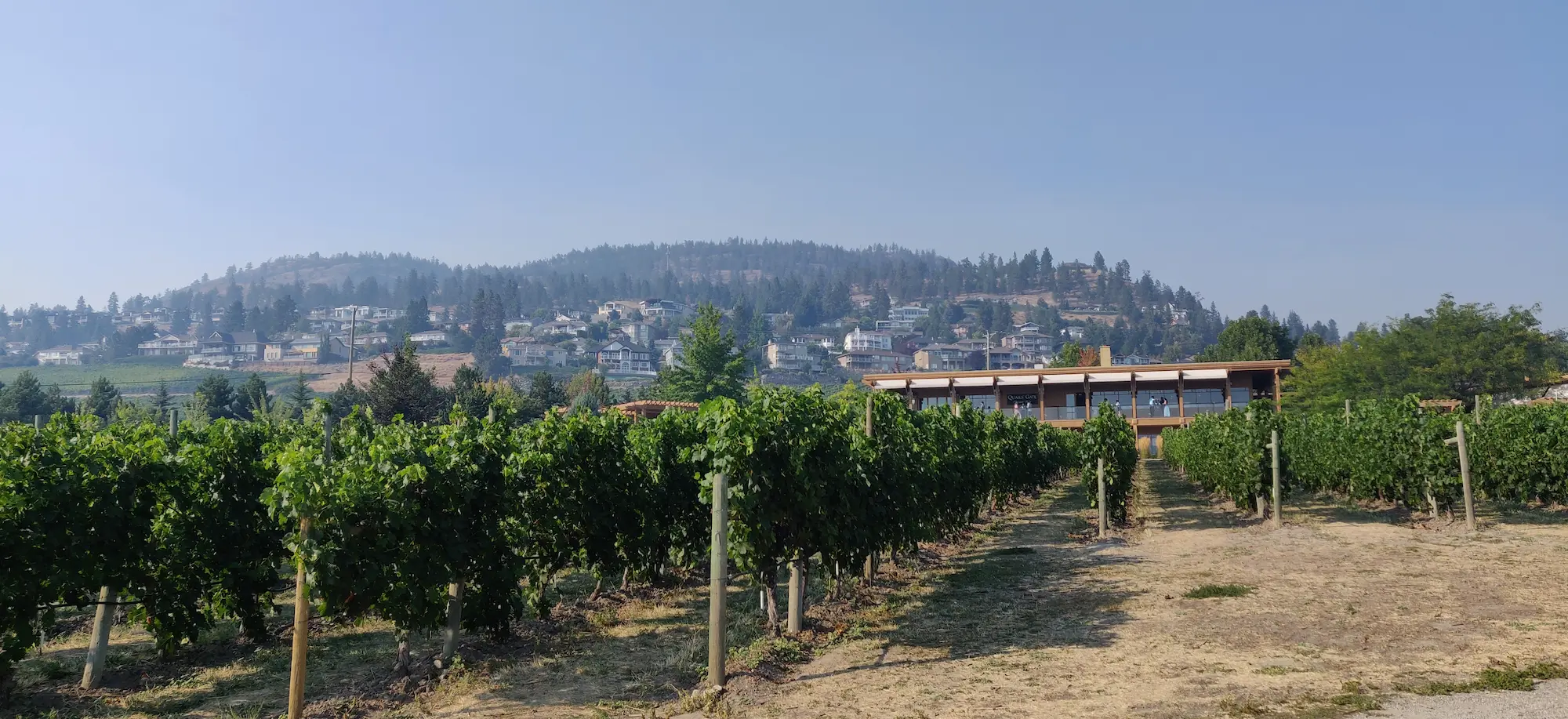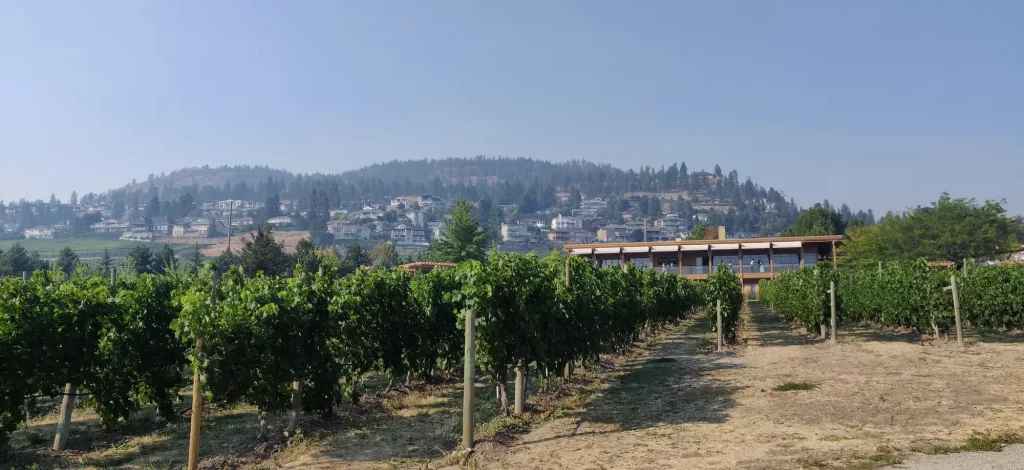 Quail's Gate
A family-owned winery with over 60 years of experience in cultivating grapevines, Quail's Gate was founded in 1989. They produced a variety of wine collections, the founder's series, the reserve, the distinction collection, the collector's series, and their estate series, made from their 200+ acres of vineyards.  
Tasting Experience
Their experience allows you to taste 4 different types of their award-winning wines for 15$ per person. I recommend trying the Fortified Vintage Foch, which is unique and different. 
Take a stroll in their estate vineyard and feast your eyes on the spectacular view of Lake Okanagan!
Restaurant
Their old Vines restaurant offers an all-day menu with specific lunch/dinner feature menus with multiple courses and wine pairing.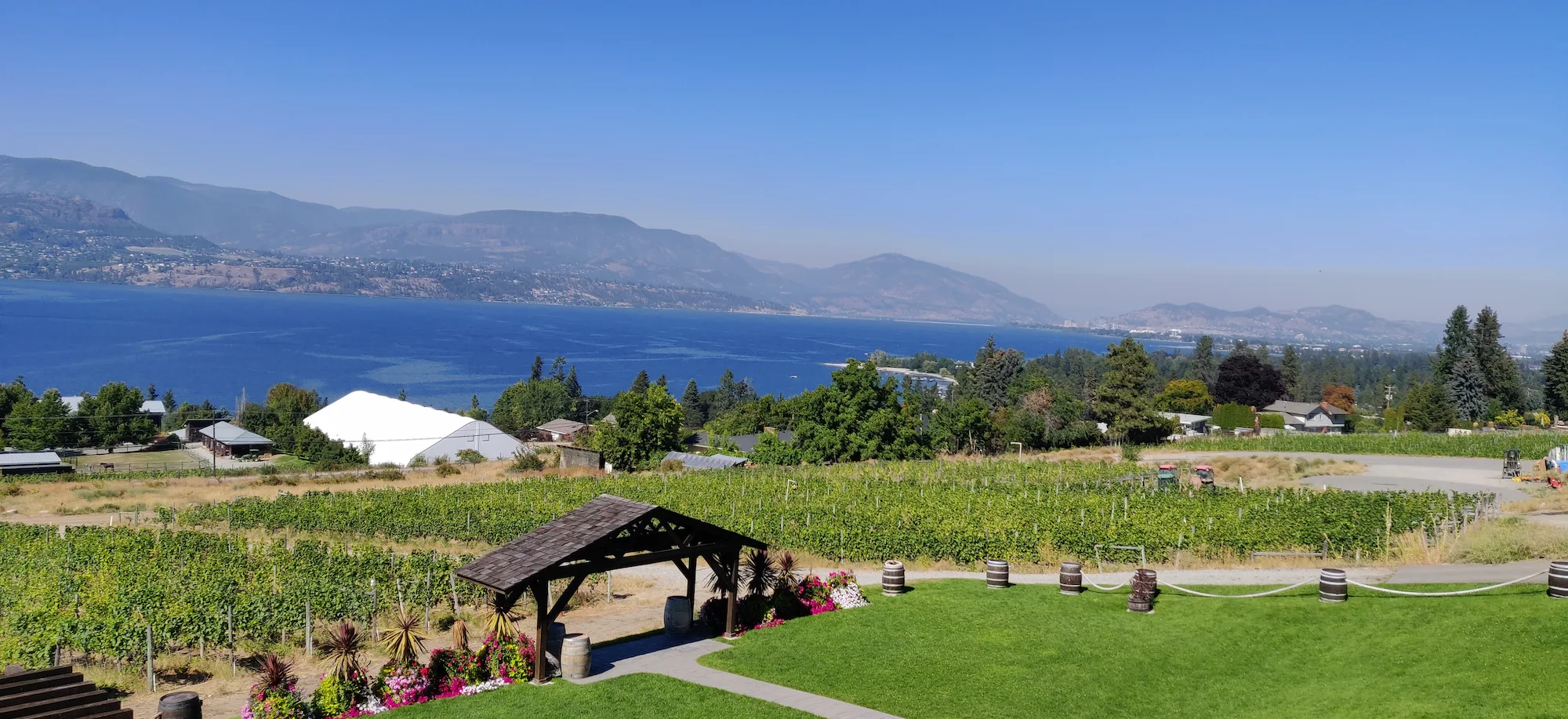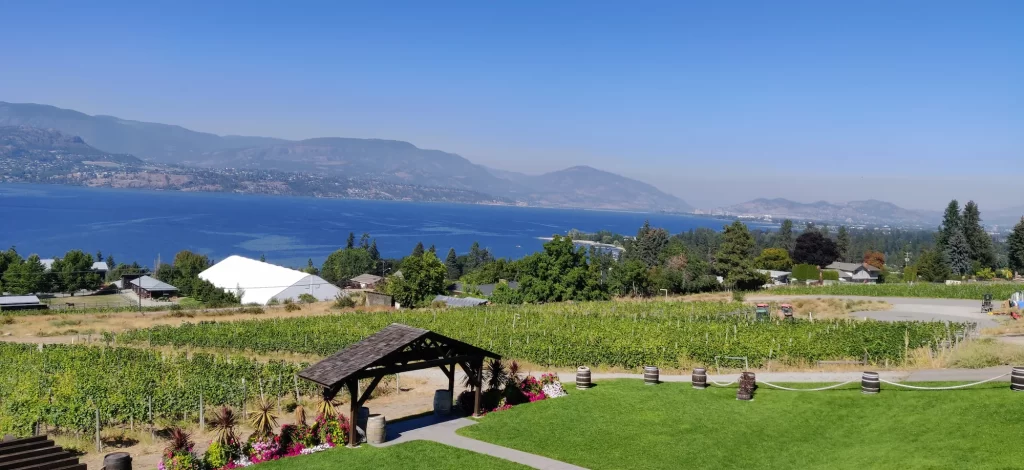 Summerhill Pyramid Winery
Home of the pyramid, Summerhill Winery is worth a visit. Their wine list includes white, red, rosé, sparkling, and ice wine. Their wines are made of organically and biodynamically grown grapes in the Okanagan Valley. Organic wine-making is at the core of this winery. 
Tasting Experience
No need to reserve for the tasting experience as they accept walk-ins. They also offer their "Discover Pyramid Power" Signature Experience, including a tour of their pyramid wine cellar, wine tasting, and food pairing. 
Restaurant
The patio of their organic bistro overlooks the vineyard and the lake. A peaceful scenery if you ask me. The restaurant offers a variety of salads, seafood, pasta, and pizza.
The Hatch
If you're looking for a chill, laid-back winery, the Hatch is the place to go. They produce red, white, rose, and sparkling wines. They aim to provide wine for everyone and step away from the snobbery associated with wine drinking. They produce three main series: the hobo series, made from grape varietals that are overlooked, the Nestheads, and the hatch-children. 
Tasting Experience
No booking is required for the tasting. Oh, and the winery is dog friendly, so you can go with your furry friends.