Disclaimer: As an Amazon Associate, I earn a small commission (at no extra cost to you) from qualifying purchases made on Amazon in addition to other retailers featured on the blog.
Are you looking for a day trip or a weekend getaway from Montreal? Wondering what are the things to do in Magog? You've reached the right place!
Magog is a small city located in the Eastern Townships, aka Cantons de l'Est. The city is surrounded by breathtaking natural beauty, including the majestic Lake Memphremagog. From adventures to chill beach days, you can find an activity that suits your taste.
Here you'll find the things to do in Magog that are tested and approved!
How to get there
By Car:
Magog is approximately 130km from Montreal, about a 1.5-hour drive (depending on traffic). I recommend you plan your road trip ahead of time to ensure a smooth journey.
By Bus:
Limocar is a bus operator that runs from Montreal to Magog, and other destinations in the Eastern Townships, starting at 39$ (including free WiFi).
Things to do in Magog


Explore the City
Magog is a charming city with many cultural, sports, and gastronomic activities throughout the year. The Parc de la Baie-de-Magog is a must-visit for its walking paths, beach, and boat launching dock, while the downtown area offers a wide range of boutiques, art galleries, and restaurants to explore. For history fans, the Maison Merry is a must-see attraction offering a fascinating glimpse into Magog's rich past.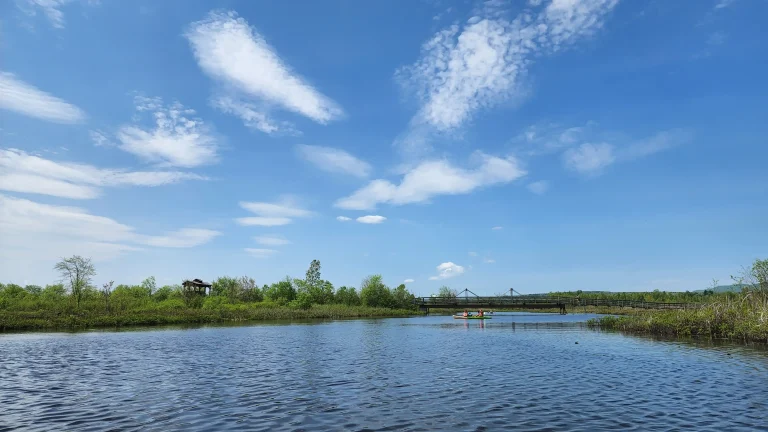 Take a Break at Marais aux Cerises
The Marais aux Cerises is a must-visit destination for anyone in Magog village! Not only it offers picture-perfect views of Magog, but this marsh also has a rich ecosystem and biodiversity. You can visit it by kayaking or taking a lovely stroll along the boardwalks. Details are here:
Kayaking/SUP 
The cool thing about Kayaking or Stand Up Paddleboarding in the Marais aux Cerises is that you can paddle your way through the serene waters of Lac Memphremagog. It was such a fantastic way to disconnect from the hustle and bustle of the city and enjoy the breathtaking surroundings. Listening to the birds chirping and inhaling the fresh air was delightful. You can't miss this spot if you want a relaxing and picturesque experience.
Taking a stroll
If you're not a fan of aquatic adventures, you can always enjoy the 6 km trails the Marais aux Cerises offers with multiple viewpoints and an observatory tower.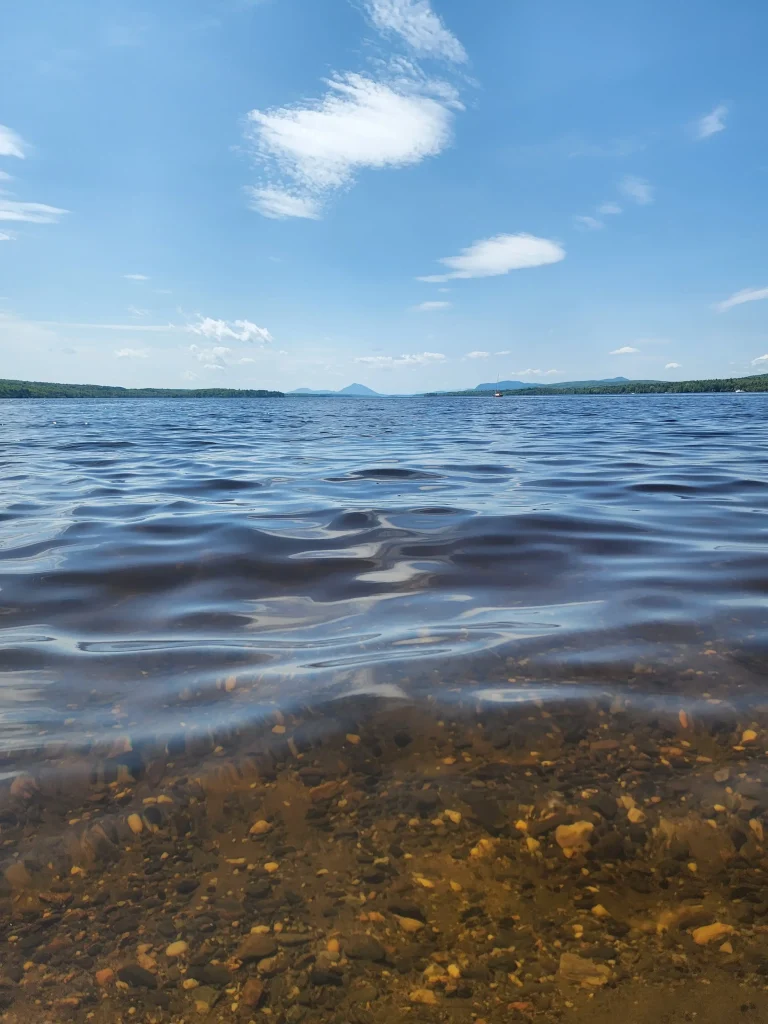 Chill on the Beach
Lac Memphremagog offers two beaches for visitors to enjoy – Plage des Cantons and Plage Magog. If you're looking for a great spot to swim, Plage des Cantons is a fantastic option. You get to dip in the refreshing clear waters of Lake Memphremagog! There are also plenty of picnic tables available to enjoy a nice lunch.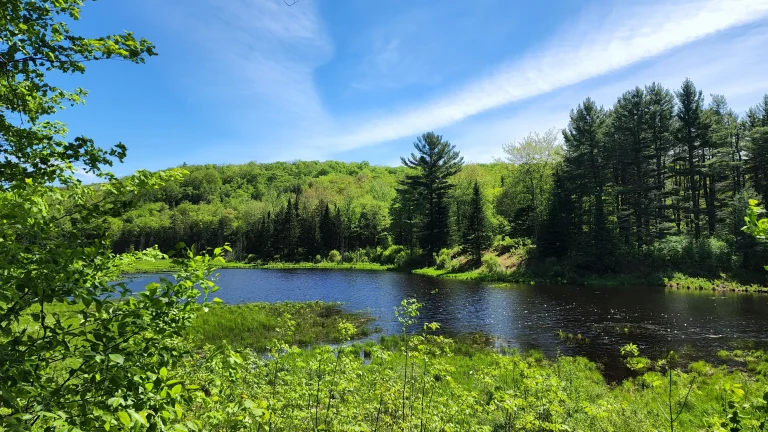 Hike at Mont-Orford National Park
If you're visiting Magog this summer and love hiking, you can't miss Mount Orford! It's 10 mins away from Magog and offers a variety of trails suitable for all levels.
Mont Orford National Park is part of the Sepaq Network; the admission for adults is $9.55, while children can enter for free.
For an easy hike, I highly recommend the Trois-Étangs Loop. This 5.5km loop with a 50m elevation is family- and dog-friendly. The trail is breathtaking, and you will walk by three different ponds. The scenery is gorgeous, and you'll want to take many pictures!
For a more challenging hike, you must try the Le Mont-Chauve trail. It's an intermediate, challenging, yet rewarding 10km trail hike that offers breathtaking views. Just wear proper hiking shoes and carry a small first aid kit. Safety first, right?
Wine Tasting
If you're a fan of wine, be sure to check out Vignoble du Chemin de la Rivière, a family-owned winery that offers a variety of delicious and unique wines. Don't miss their fortified wine – it's definitely worth a try! The owners are friendly, knowledgeable and offer a tasting experience. Plus, the vineyard itself is absolutely stunning, with picturesque views of the surrounding countryside. It's the perfect spot to relax and unwind with a glass of wine.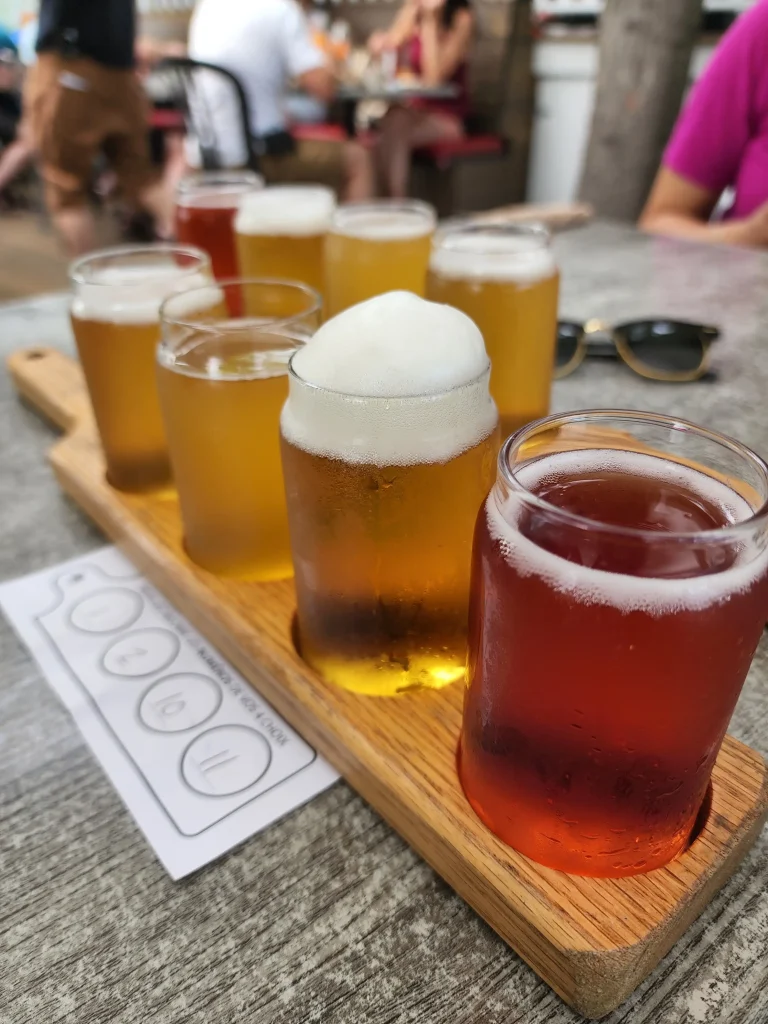 Where to Eat
Microbrasserie la Memphre
If you're a fan of good beer and delicious pub fare, Microbrasserie la Memphre is your go-to place in Magog. From crispy fish and chips to juicy burgers and everything in between, paired with locally crafted delicious beer.
Fabrique de Bagels Café Noir
Fabrique de Bagels Cafe Noir is a great place to check out if you want to taste amazing bagels that come straight from the oven. Their bagels are freshly baked on the spot. And if you're looking for a unique bagel experience, you should try their maple bagel! They also carry a variety of local cheeses made by the Abbaye de Saint-Benoît-du-Lac. These cheeses are a perfect complement to the bagels!
Alessa Trattoria
If you're looking for an Italian dining experience, I highly recommend checking out Alessa Trattoria. This charming restaurant is located on Rue Principale, where you'll find many restaurants. However, Trattoria Alessia stands out with its delicious pizzas and pasta made with fresh ingredients. And, of course, no Italian meal is complete without a serving of Tiramisu, which Trattoria Alessia does to perfection.
Where to Stay
When we went to Magog, we stayed at this Airbnb. The good thing I liked about this place is its proximity to the beach which can be accessed 5 mins on foot.
But there are other options:
Magog is a fantastic summer destination with a variety of activities for all tastes. From exploring the city's culture to kayaking through the marsh, chilling on the beach, hiking, and wine tasting.
Pack your bags and get ready to make some unforgettable memories in Magog!