Are you considering a day trip to our neighboring country from Montreal? Plattsburgh is a small city in New York, 1 hour away from Montreal. While it may be famous for its shopping outlets (and airport to catch cheap internal flights in the US), there's so much more to discover in this charming town. In this blog post, I'll share things to do on a day trip to Plattsburg. So let's go!
Preparation for the Day Trip
Before embarking on your day trip to Plattsburg, have all the necessary documents. Don't forget your passport or other identification documents, as you will cross the border between Canada and the United States.
You may need a visitor visa if you're not a Canadian citizen, so check the US Travel State Website. Also, make sure to check what you can take with you across the border in terms of food.
If you're going in the summer, don't forget to bring the must-haves like sunscreen, a hat, and comfy kicks.
Transportation to Plattsburg
There are two main ways to get to Plattsburg from Montreal. You can drive or take public transportation.
If you choose to drive, the route is very straightforward and easy to follow. Take Highway 15 South and cross the border at Champlain, NY. From there, it's only a 20-minute drive to Plattsburg.
You can take the Adirondack Trailways bus from Montreal to Plattsburg if you prefer public transportation. The bus runs multiple times daily, and the journey takes approximately 2 hours, starting from $48.
Things to do in Plattsburg
Once you arrive in Plattsburg, there are plenty of activities to keep you busy and enjoy a nice day. Here are some of my recommendations:
Point Au Roches State Park
– Relax at the Beach
Point Au Roche State Park is a beautiful park located on the northwestern shores of Lake Champlain. The park has a designated swimming area with crystal-clear water and a sandy beach. It's the perfect spot to relax and soak up some sun. Picnic tables are also available for those who desire.
– Hiking and Biking
If you're looking for a more active way to spend time in Plattsburg, consider hiking at Point Au Roches State Park. The park has a variety of hiking trails that are easy.
Thrift shopping
Margaret Street is the place to shop for antiques and thrift items. Many of these shops have unique that you won't find anywhere else. You can spend hours browsing through the many different stores, each with its own distinct style and atmosphere. From vintage clothing and antique furniture to quirky home decor, you might find what you're looking for.
Exploring the Battle of Plattsburg Interpretive Center
For history buffs, the Battle of Plattsburg Interpretive Center is a fascinating place to visit. The center tells the story of the Battle of Plattsburg, a significant event in the War of 1812.
Book Lovers, Head to the Corner Stone Bookshop
The Corner Stone Bookshop, established in 1975, is a secondhand bookstore in downtown Plattsburgh. With three floors of books covering a variety of categories, including fiction, academic subjects, and non-fiction, you're sure to find what you're looking for among the 80,000 titles available. Or, a book might find you, as The Prophet by Khalil Gibran did for me.
Check out the Murals in Downtown Plattsburg
If you're a fan of street art, then the area around Durkee St. is a must-visit destination. Take your time as you wander through the streets, admiring the creativity and skill that went into each piece.
Follow this map to check out the murals. You'll find large and smaller pieces scattered throughout the neighborhood, each with its own unique style and message. From political statements to whimsical designs, these smaller murals add a layer of charm and character to the area.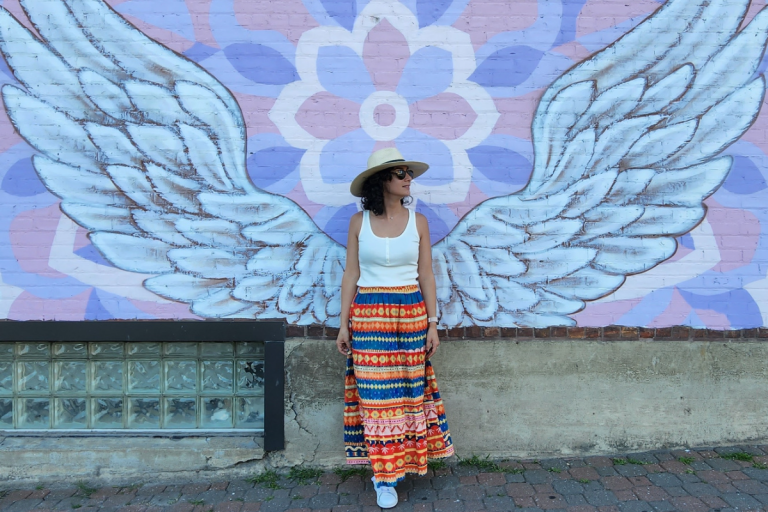 Food and Drinks
No day trip is complete without some good food.
A local restaurant – Olive Ridley
Olive Ridley's is a great place to enjoy a refreshing beer in the afternoon. With its cozy atmosphere and friendly staff, you can relax and unwind after a long day. Make sure to try one of their 20 craft beers. They serve typical American fare.
Fast food – Chick-fil-a
I'd be lying to you if I told you I didn't eat fast food. I tried the yummy Chick-fil-a for the first time in Plattsburgh. Give it a try if you haven't already; you'll thank me later.
Plattsburg may be small, but it's full of hidden gems waiting to be discovered. With its beautiful parks, fascinating museums, and delicious cuisine, there's more to do than shop.
If you're looking to plan a road trip, check my guide for the ultimate planning.