Disclaimer: As an Amazon Associate, I earn a small commission (at no extra cost to you) from qualifying purchases made on Amazon in addition to other retailers featured on the blog.
Ever since I set foot in Canada, I've had Toronto and Niagara Falls on my list of places to visit. I finally had the chance to go in October 2021, so I planned the following amazing 4 day Road Trip. I strongly recommend this trip when you're exploring Canada, I happen to start in Montreal, but you can easily kick it off from Ottawa. 
On this 4-day road trip, you'll see Toronto, Niagara Falls, Niagara on the Lake, the Thousand Islands from Gananoque, and Kingston. In other words, you'll be visiting Canada's largest city, one of the world's wonders, wineries, and charming towns you'll want to settle in. 
Keep in mind the maximum travel time between points A and B in this trio is 3 hours. I reduced the travel time as we had a senior person with us, and we wanted everyone to be comfortable. This makes this plan perfect for couples, friends, and families. For planning tips, read my article on How to Plan a Road trip. Bon Voyage!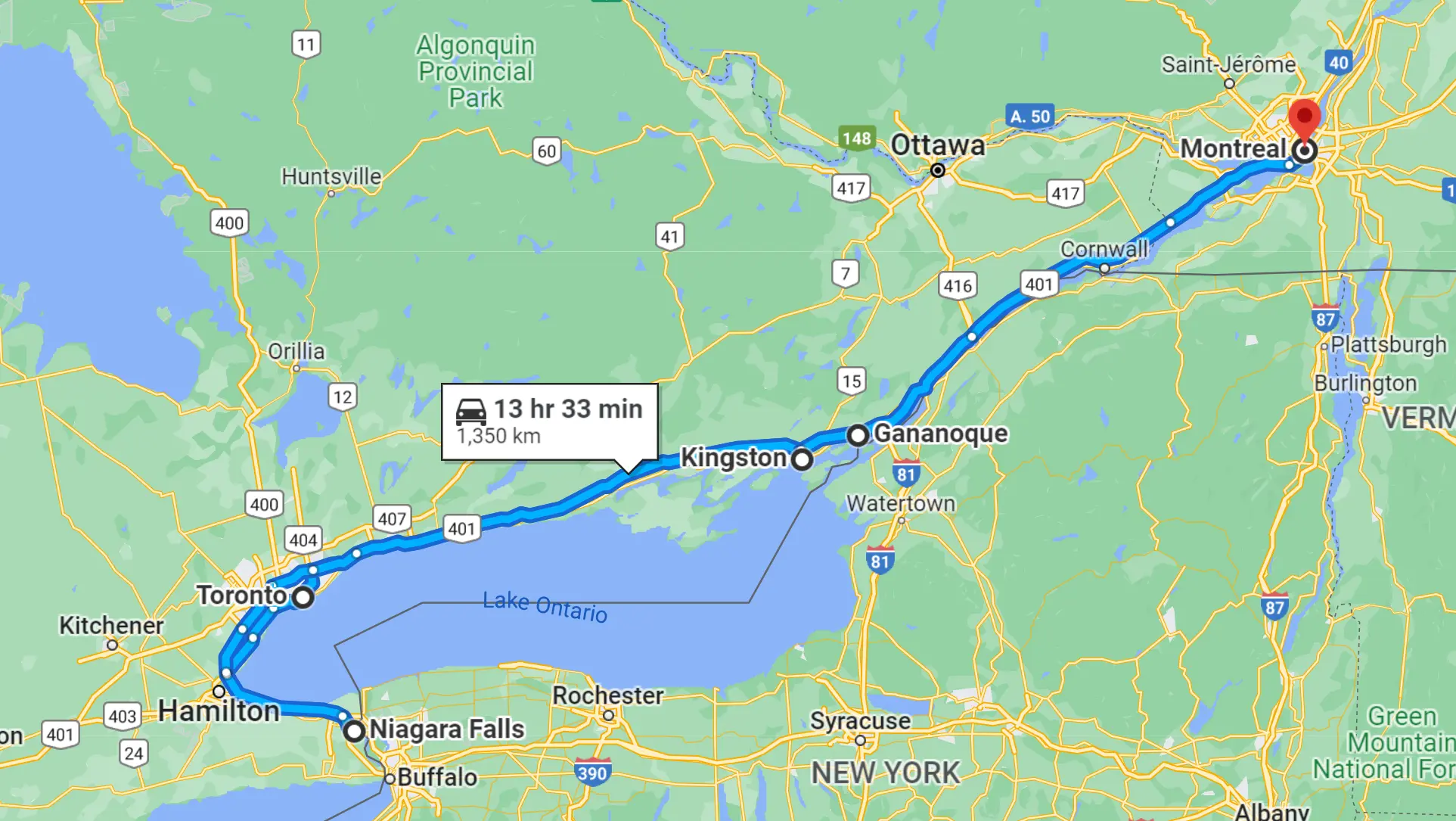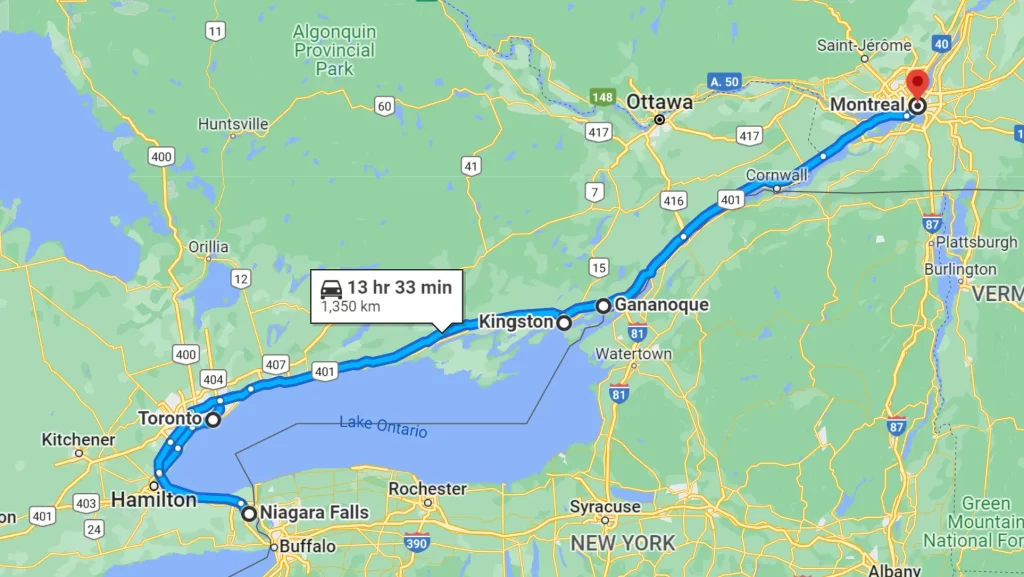 Day 1 – Gananoque and the Thousand Islands
The Drive – Montreal to Gananoque
Gananoque (pronounced as GAN-ə-NOK-way) is, depending on traffic, around 2.5 hours from Montreal (1.5 hours from Ottawa) via the A. 20 O and ON-401 W. Leave around 9 am to make the most of your day there. 
I must admit, the drive is lovely during the fall as you see the trees changing colors on both sides of the road. It's as if you're living in a piece of art.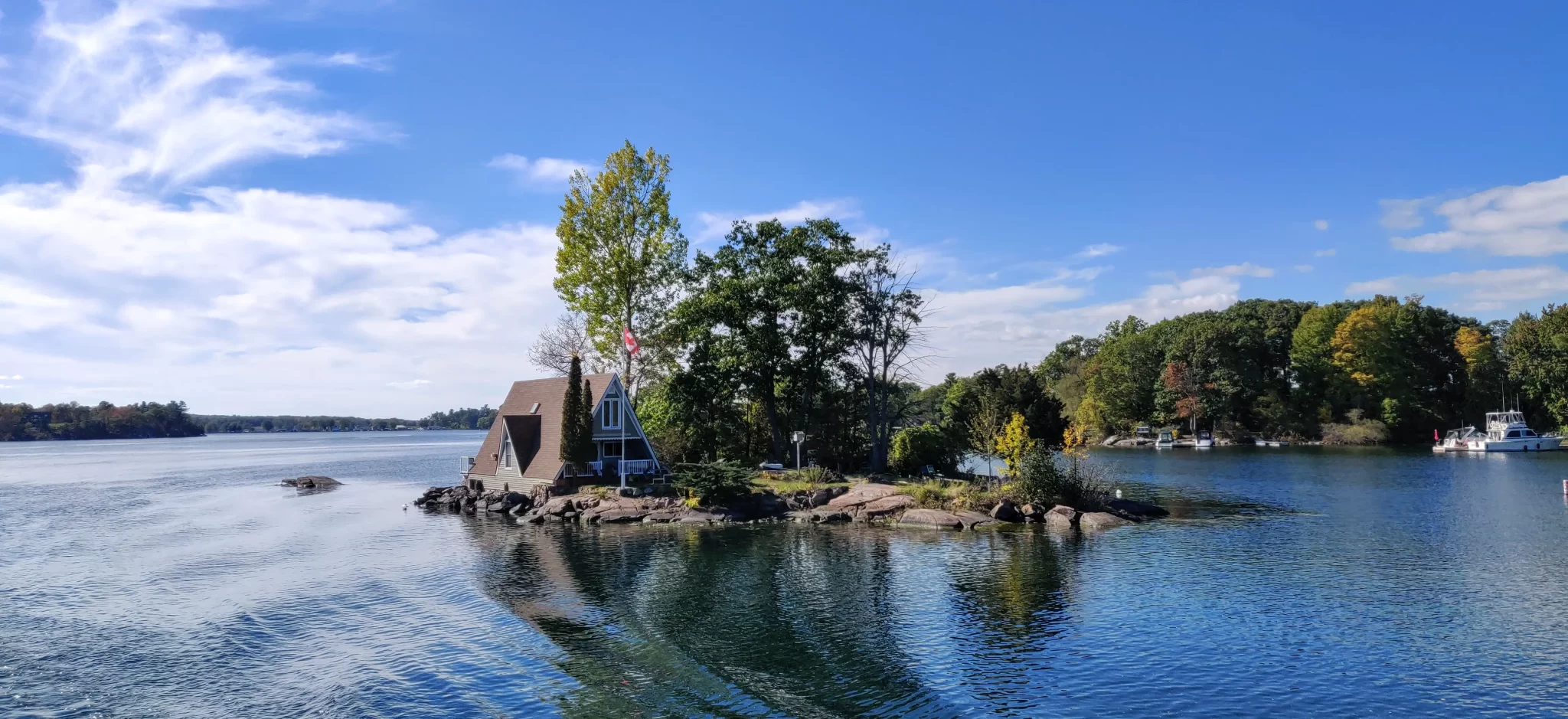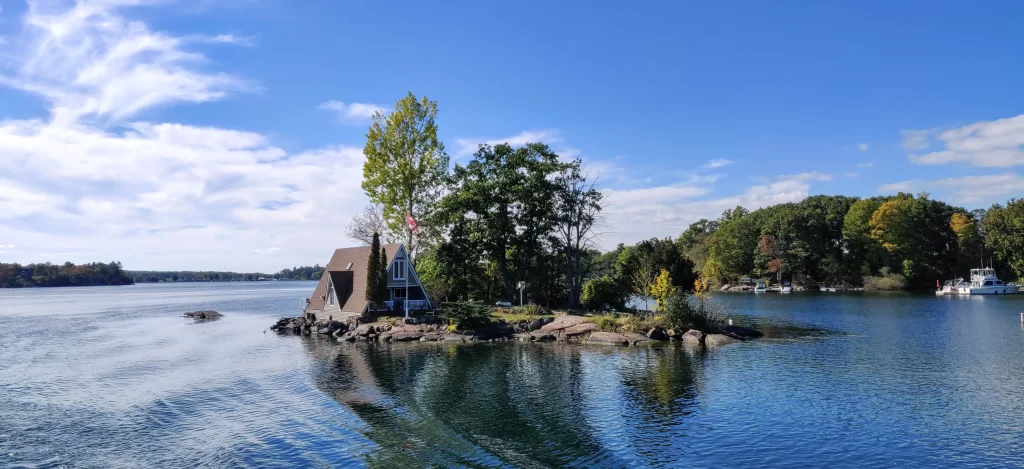 Things to do in Gananoque & the Thousand Islands
Gananoque is one of the largest towns in the Thousand Islands and a very charming one. Start by walking along King Street to stretch your legs, explore local shops, and grab a bite.
Then walk along King Street to reach Stone Street, where you can take a stroll in a lovely neighborhood. There are different B&B on this street. in case you feel like staying overnight. 
From Stone Street, take a right to reach Water Street, where you can visit the Thousand Islands. The City Cruises Gananoque by Hornblower offers multiple options to cruise along the river. We chose the Original Heart of the 1000 Islands, and I highly recommend it! With this option, you'll cruise alongside the Admiralty and Navy group of islands and will admire summer cottages. 
Here are the details: 
Duration: 1 hour

Schedule: there are multiple departure times during the day; we picked the 2pm one

Price: Adult (13-54) CAD 27.50; Senior (55+) CAD 23.50; Child (6-12) CAD 21.50; Infant (5 and under) CAD 13.50
Food & Drinks
For a refreshing beer and some fish and chips, I recommend the Stonewater Pub! The Pub is on Stone Street, so you can have a bite before or after the cruise.
Towards the end of the day, you can drive to Toronto to spend the night there (see details below).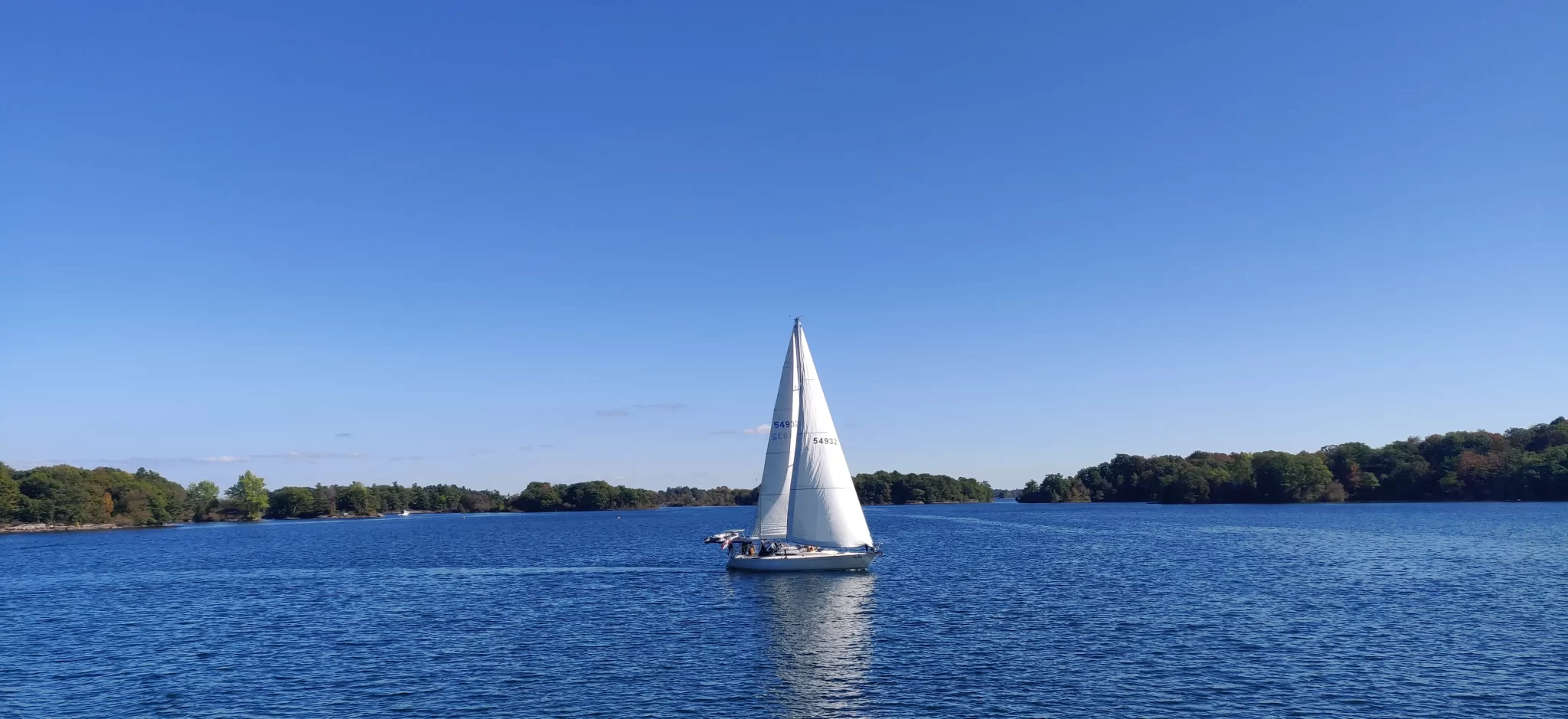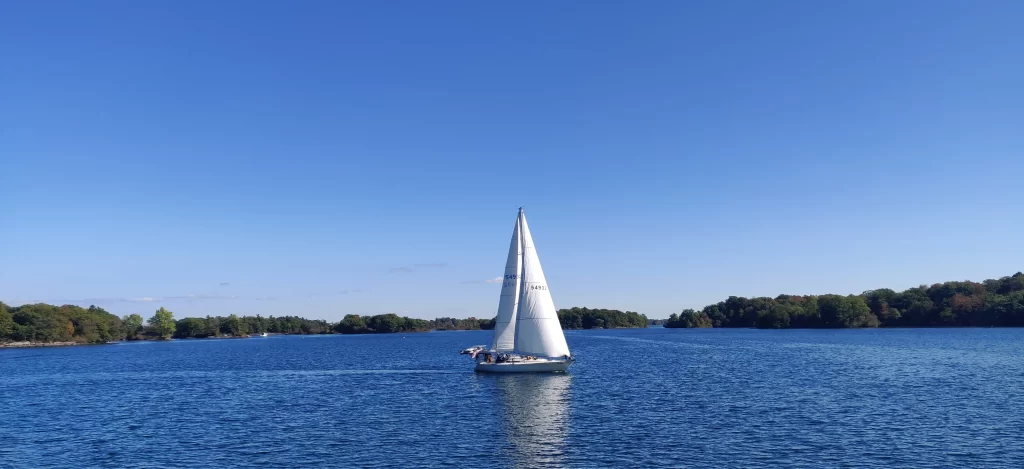 Day 2 – Toronto
The Drive – Gananoque to Toronto
Driving from Gananoque to Toronto takes around 2 hours and 45 mins, depending on traffic, via the ON-401 W.
Where to Stay in Toronto
I designed this Road Trip to avoid having multiple accommodations. My recommendation is to check in at a hotel in Toronto on Day 1 in the evening and check out on Day 4. I suggest you pick a hotel Downtown to avoid driving much on Day 2, plus parking can be scarce and expensive in Toronto.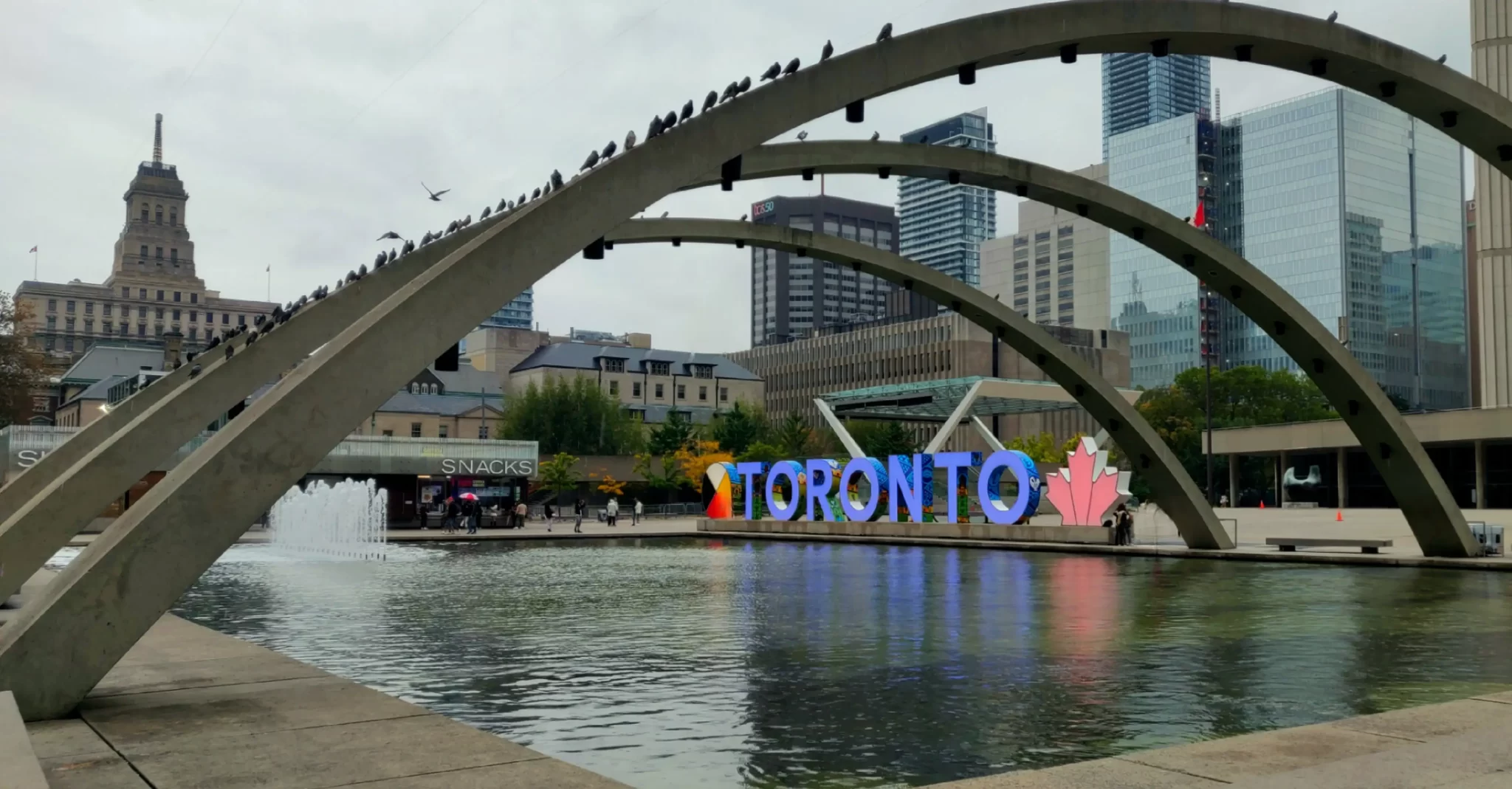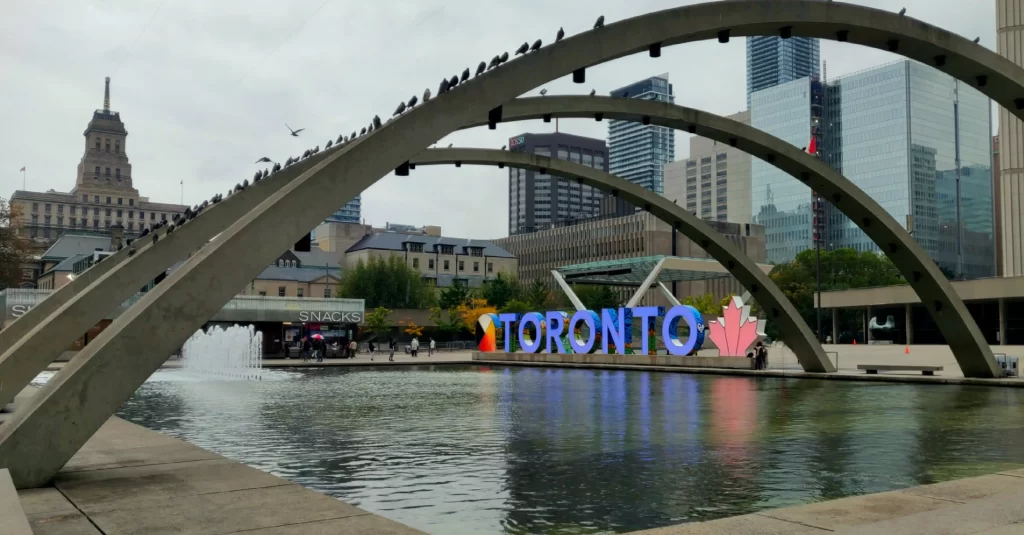 Things to do in Toronto
If you want to see Toronto in 1 day, here's the plan: start by walking south along Younge Street and passing by the Yonge-Dundas Square for a mini New York Time Square Experience. 
Continue walking along Younge Street until you reach Queen Street W. You'll find the Toronto Old City Hall and the famous Nathan Phillips Square. This square is packed with activities all year long. In fact, the large fountain is transformed into an outdoor ice rink in winter. 
You can continue walking west on Queen Street until you reach Spadina Avenue. When you do, take a right and walk north towards Chinatown and Kensington Market. You can grab a quick bite there before you continue the tour. 
When you're done, you can walk south on Spadina Avenue until you reach the Graffiti alley, where you'll find vibrant street art. 
You can then head to the harbourfront. Walking West on Queens Quay is lovely in the afternoon as you walk past the famous CN Tower and the Harbourfront Center. You can go up the CN Tower and enjoy a 360-degree view of Toronto. It was gloomy on the day I visited Toronto, so I didn't end up not going up. But if you happen to go on a clear day, you can pre-book your ticket to reach the top for CAD 40 Adult (14-64) / CAD 27 Youth (6-13) / CAD 14 Child (3-5). 
For places to eat and drink, check out the below section. 
Food & Drinks
That's the fun part if you ask me! Here's a list of places I tried during my stay and recommend. 
Miku
For sushi lovers, Miku is the best sushi restaurant in Canada, in my opinion. I've tried the one in Vancouver and loved it. I was surprised when I saw they had another branch in Toronto. It's an expensive restaurant but worth it.
Richmond Station
For a nice international meal in busy downtown Toronto, the Richmond Station is your place. Cool vibes, delicious food, and unforgettable service! 
Cluny Bistro
Situated in the pedestrian-only Distillery district and inspired by modern French cuisine, Cluny offers a variety of delicious food! 
O'Somae
At O'Somae, they use indigenous ingredients, promoting local farms and businesses. We had a delicious brunch there!
Day 3 – Niagara Falls & Niagara on the Lake
The Drive – Toronto to Niagara Falls and Niagara on the Lake 
From Toronto, you'll need to drive for 1 hour 15 mins (depending on your location and traffic) via the 403W and the Queen Elisabeth Way. I recommend leaving for Niagara Falls in the morning so you can enjoy the rest of your day. From Niagara Falls, you can drive 15 mins to reach the charming town of Niagara on the Lake.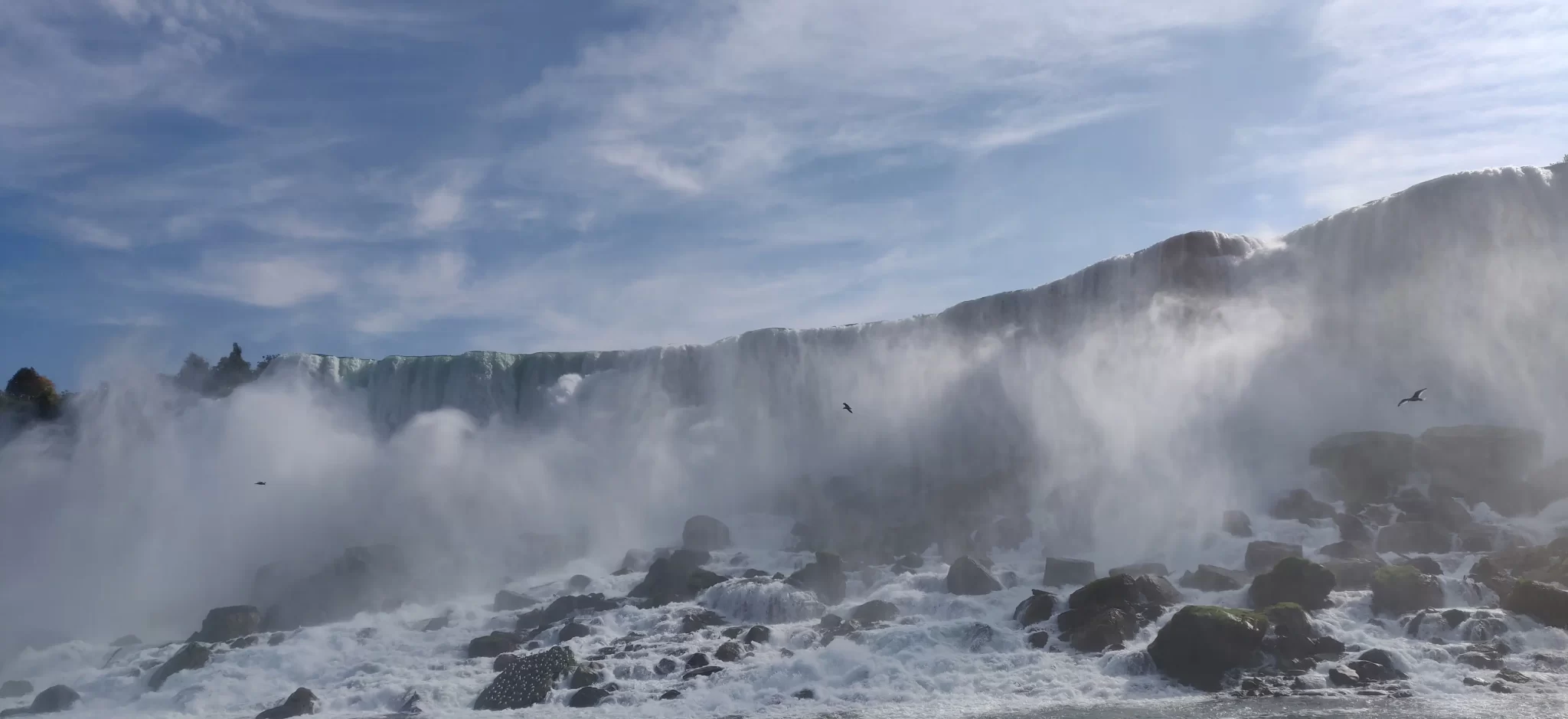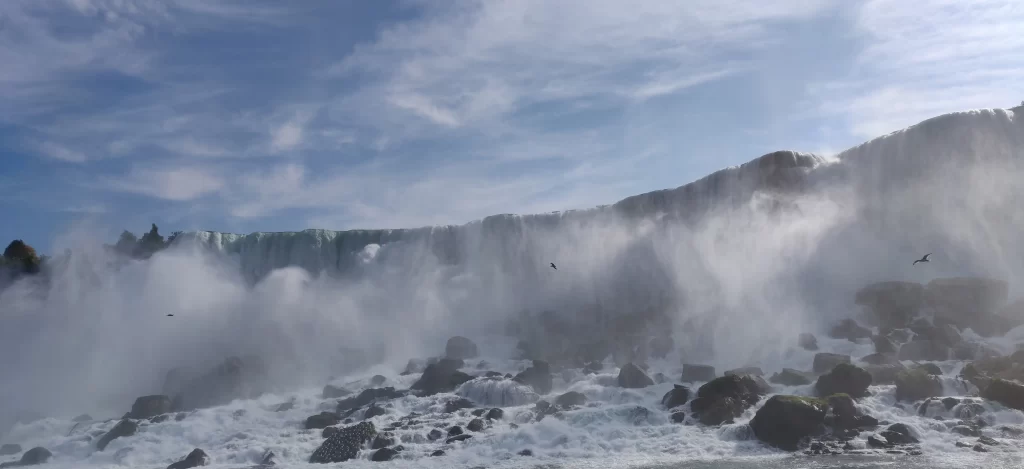 Things to do in and around Niagara Falls
The Majestic Falls 
Oh my, you're in for a treat! I have not seen anything so impressive and breathtaking as Niagara Falls. I was amazed by the Horseshoe falls, aka the Canadian falls. They are the most voluminous falls in the world! There are multiple viewpoints to enjoy this beauty, here are my recommended ones: 
Niagara City Cruise

by the Hornblower: Do not miss this 20 mins cruise that takes you as close as possible to the Horseshoe Falls, the American Falls, and the Bridal Veil Falls. Yes, you'll get soaked in water, even if you wear the waterproof poncho, but it's worth it. For the price (add HST): Adults (13+) CAD 32.00 CAD, Children (ages 3 to 12) CAD 22.00 CAD, Infants (2 and under) are free. Tickets include an audio commentary that accompanies you. 

Skylon Tower

: At the top, there's an observatory deck with a 360-degrees view of Niagara Falls. You have 2 options: either you purchase a ticket to take the elevator to the top (CAD 16.24/adult, CAD 10.44/child), or you reserve a table at the Revolving Dining Room, which grants you a complimentary ticket for a minimum charge of CAD 35

Niagara Falls Parkway: you can walk along the parkway and enjoy the view of the Horseshoe Falls
Niagara on the Lake 
When you're done feasting your eyes on the Falls, head to Niagara on the Lake, a charming little town that dates back to 1797. You can grab some ice cream from the local shops and walk on Queen's Street, where you'll find the clock tower a WW1 memorial. You can then head towards Lake Ontario for a change of scenery. 
Niagara on the Lake also has multiple wineries, so if you're a wine lover, make sure to head there but book ahead of time as they tend to be fully booked. One of the wineries I recommend visiting is the Konzelmann Estate Winery, which is on Lake Ontario, and the view from there is breathtaking.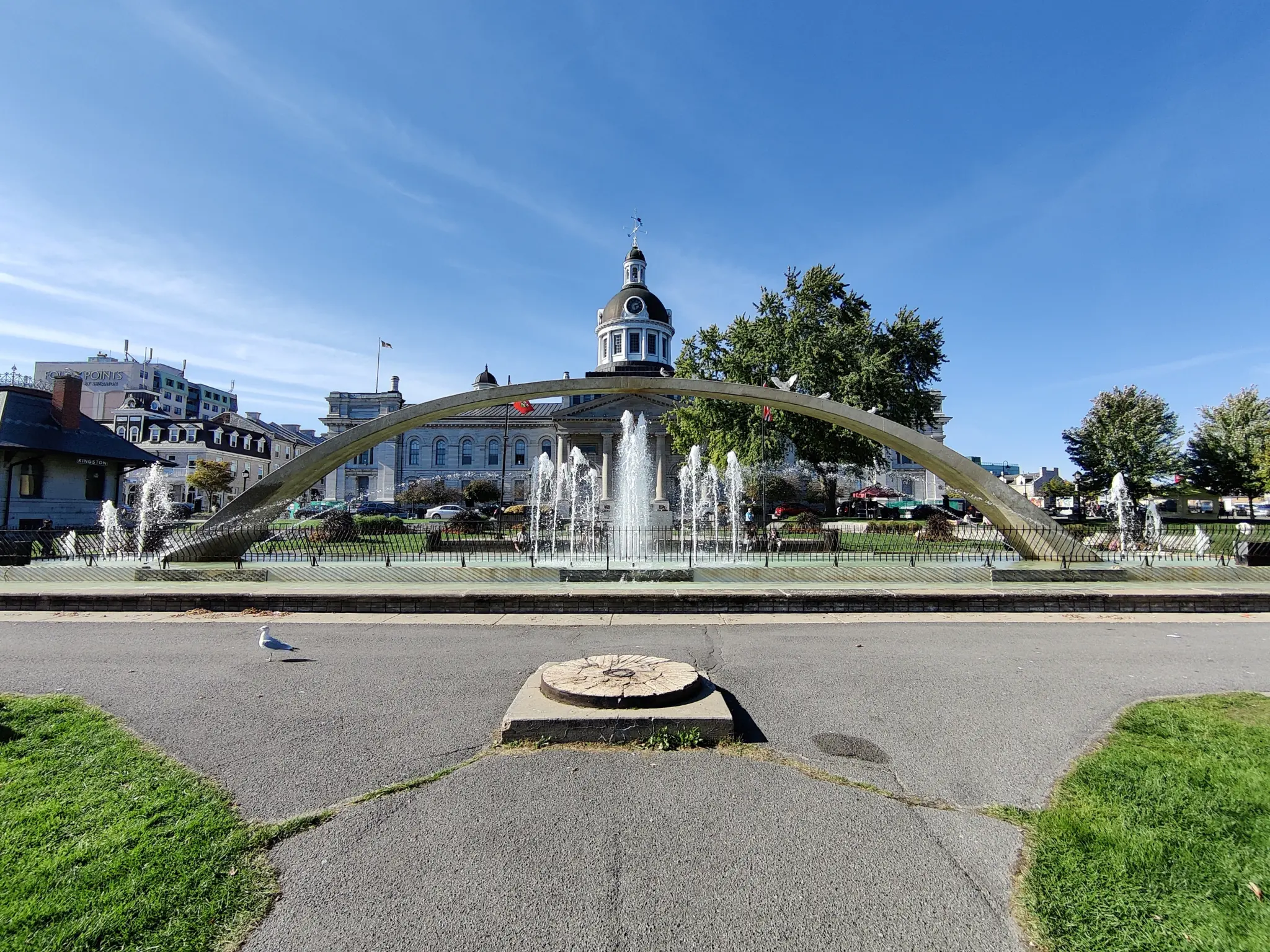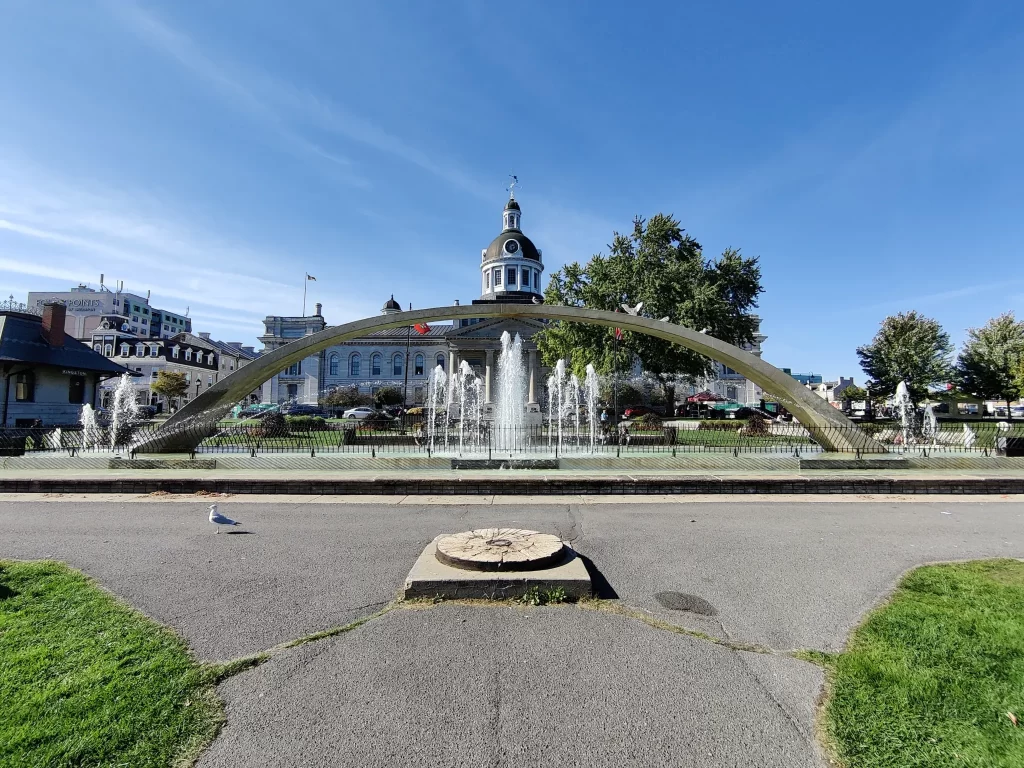 Day 4 – Kingston and the drive back 
The Drive – Toronto to Kingston
On the way back from Toronto, make a stop at Kingston; it's around 2 hours and 45 mins (again, depending on travel) via the ON-401 E and halfway through Toronto-Montreal (or Toronto-Ottawa). Quite an easy drive if you ask me. 
Things to do at Kingston
Fun fact, Kingston was Canada's first capital for 3 years! This is a great town for a break to slow down the drive back. You can stretch your legs by walking along the waterfront. A nice stop is around the Spirit Of Sir John A. Canadian Pacific; on one side, you have the city hall, and on the other, the harbor. You can then head to Princess Street for some food and a beer. 
PS: You can do the Thousand Islands Tour from Kingston if you didn't stop at Gananoque. 
Et Voila! This concludes the 4 days trip to Toronto, Niagara Falls, and the Thousand Islands.