Mount Sutton, One of the Best winter hikes in Quebec 
If you had told me that it's possible to enjoy Canadian winters before I moved here, I would have told you no way! Why? Because I'm always cold, and how can someone enjoy extreme temperatures? Also, people told me that in winter everyone stays at home. So that was my expectation for winter. 
Well, it turns out that Canada is beautiful in every season and has a winter wonderland vibe in winter. The secret to loving winter lies in doing outdoor activities, and hiking is one of them. And to enjoy your hikes, you need to be prepared, wear the right gear and respect mother nature.
If you're looking for a winter activity, hiking is highly recommended, especially in Quebec, a.k.a. La Belle Province, which hosts some of the most beautiful national parks. 
A classic winter hiking trail 
One of the best winter hikes you can do in Quebec is in Mount Sutton (Parc d'environnement naturel de Sutton P.E.N.S), situated in Sutton, about 1.5 hours from Montreal. This beautiful park has many trails which you can enjoy from beginner to advanced. I advise you to check out which ones are open and plan your hike before going. From short 2.5km hikes (The Val-Sutton Loop) to 13.8km (The Loop of Ridges), you'll find what you need. 
In our case, we chose the classic Lac Spruce trail, and, I must say, we chose well! The hike was exceptional. In terms of difficulty, it's a moderate one, so take it easy. You need to consider that hiking in winter tends to be more difficult, so make sure to level down in difficulty.
The trail is well defined, but I strongly recommend wearing ice cleats as it's a bit icy. You walk along a path of evergreen trees covered in snow, a breathtaking view! And once you reach lake Spruce, you'll be surrounded by an incredible view! In our case, the lake was frozen and covered in snow, so we got to walk on it, which was pretty awesome.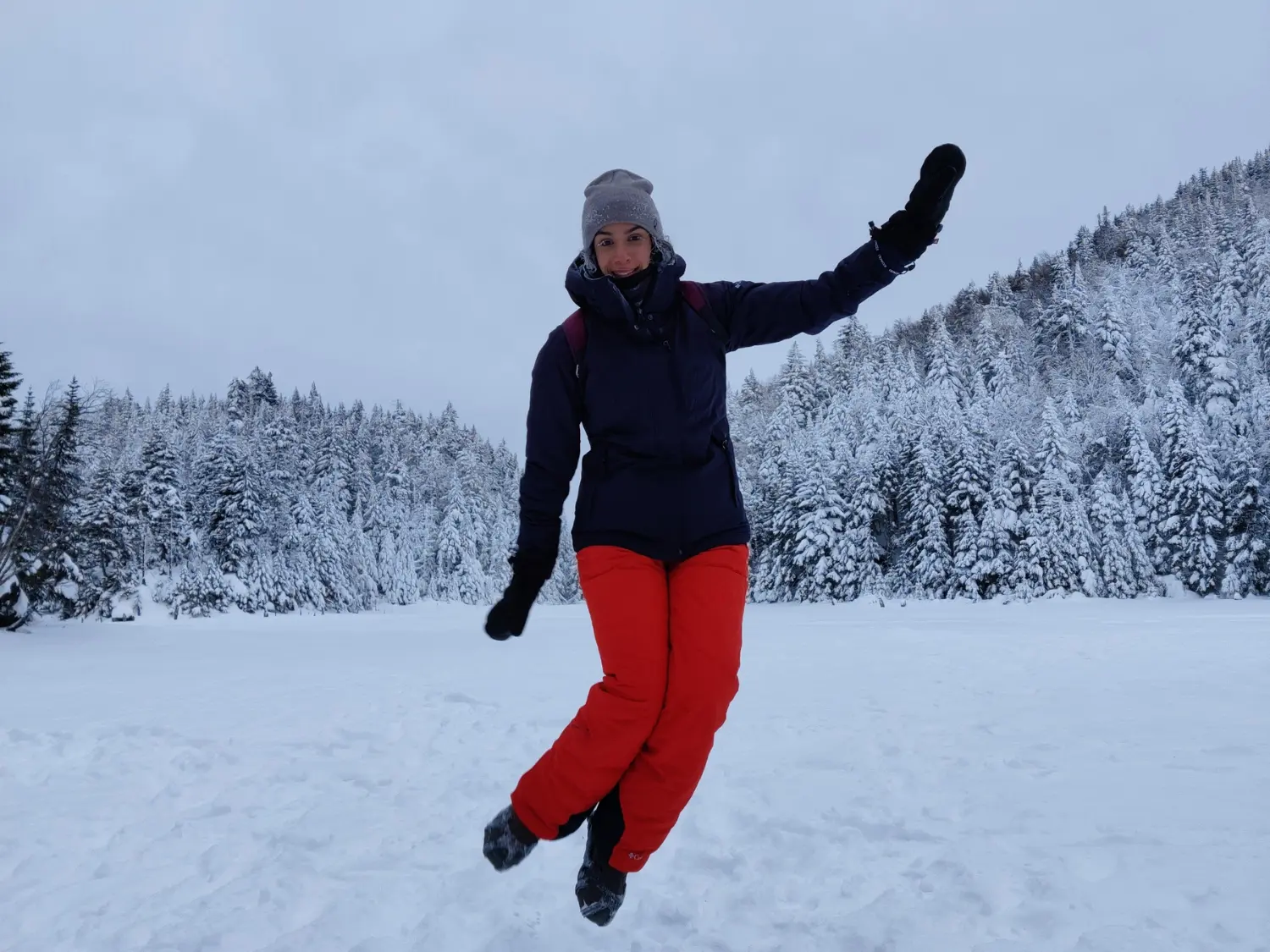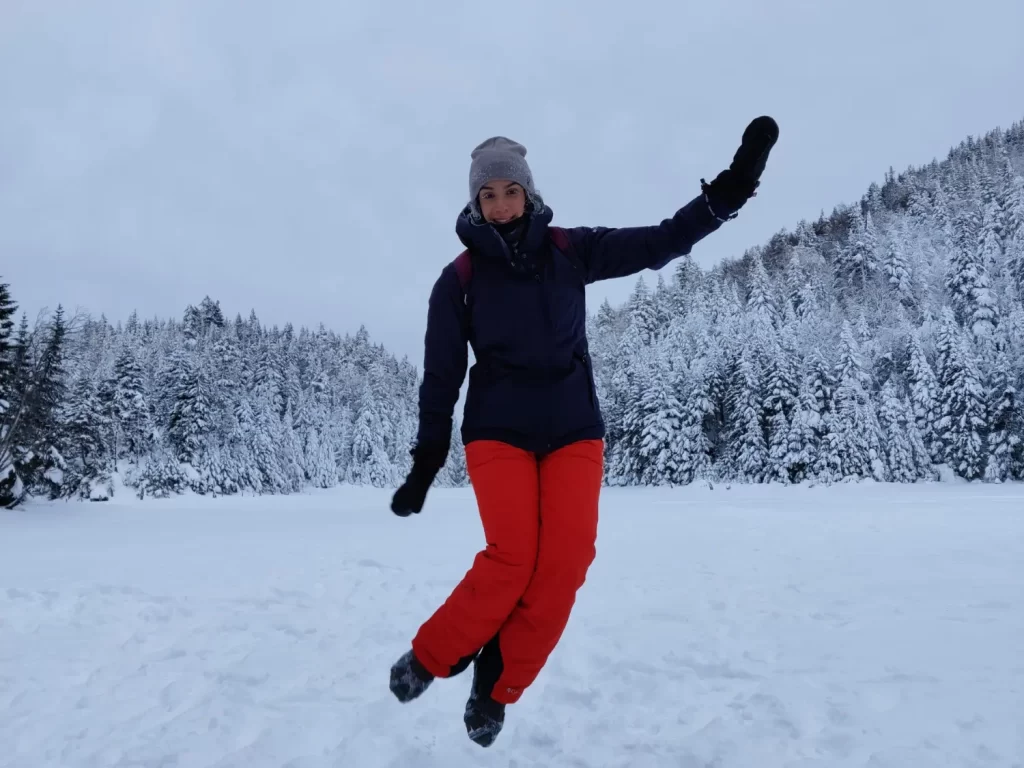 Lac Spruce Trail Details
To summarize the trail: 
Location: Parc d'environnement Naturel de Sutton

Trail: Lac Spruce

Difficulty: Moderate

Duration: Around 2h 

Price: 7$
Note: they recommend getting your tickets online as it's a popular destination for hikers. 
Lac Spruce and Round Top
If you're in for a challenge, you might want to add the Round top loop to the Lac Spruce Trail. When you reach the top, you'll feast your eyes on one of the most beautiful views of Mount Sutton covered in evergreen trees dressed in white. 
Some people choose this trail for a sunset hike. If you do, beware of the temperature and make sure you're well prepared in terms of clothing and packing.  
Winter Hiking Preparation 
If you decide to hike in winter, be well prepared and be cautious. As much as it's beautiful, it might be challenging and dangerous if it's too cold. 
Here are some noteworthy preps: 
Research the trail before you go, make sure it's open 

Have your ice cleats with you because you never know if you might need them

Beware of the temperature; if it's too low (<15oC or 5oF), you want to layer up to avoid getting cold or frostbites.

Staying in pairs is preferable

Keep a portable phone charger because your phone battery might drain quicker
Frequently Asked Questions (FAQs)
Hiking in winter is doable. It'll need extra preparations before going depending on the temperature outside, including wearing the right gear and researching the opened trail.
The key is in the layers. You need to wear multiple layers, including merino wool base layers, fleece layers, and waterproof outerwear.
Aside from wearing the right gear, pack a hot beverage such as tea, hot chocolate, or a soup, a protein-based snack, hand and feet warmers, and ice cleats, depending on the conditions.