Saint Sauveur is one of my favorite towns within an hour's radius of Montreal. It's worth a weekend getaway or even simply to spend the day there, given the proximity to the city. 
The beauty about Saint-Sauveur is that it looks and feels like a small town, yet, it's packed with activities and things to do whether you're on a solo trip or with friends or family.
When is the Best time to Visit?
Honestly? All year long! This delightful town is beautiful during all 4 seasons, and you can enjoy different activities depending on when you go. I've been there multiple times throughout the year, and it was charming every single time. So my advice to you would be to go during your favorite season, whenever you're visiting Montreal.
How to get There? 
Saint-Sauveur is accessible from Montreal by car or bus, but it's easier to drive there, especially since the bus doesn't run all year long (see below). 
By Car: 
You need an hour (give or take) to reach Saint Sauveur, depending on traffic via Autoroute 15N. It's relatively easy to get around the town by car and parking is usually not an issue. 
By Bus: 
You can take the Express Du Nord, which stops at 3 different places in Saint-Sauveur: Sommet Saint-Sauveur, Hôtel Manoir Saint-Sauveur, and Factoreries Tanger. It takes between 1h and 1h15 mins to get there depending on the chosen stop.
In terms of pricing, the ticket for adults is $22 one way and $39.6 round trip. The service usually runs between October and April for the ski season. It's important to note that the service is currently on hold, so you might want to check their website.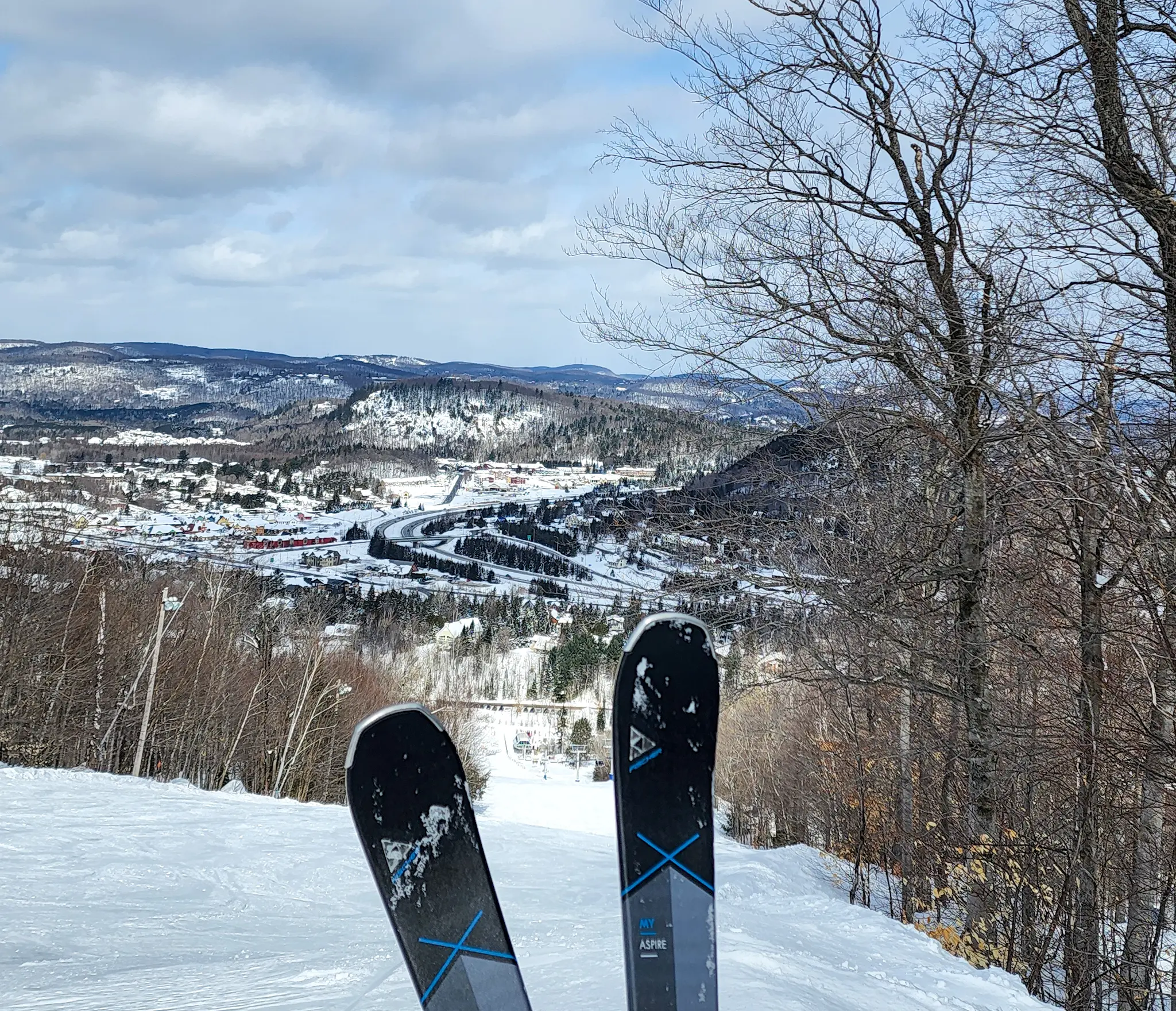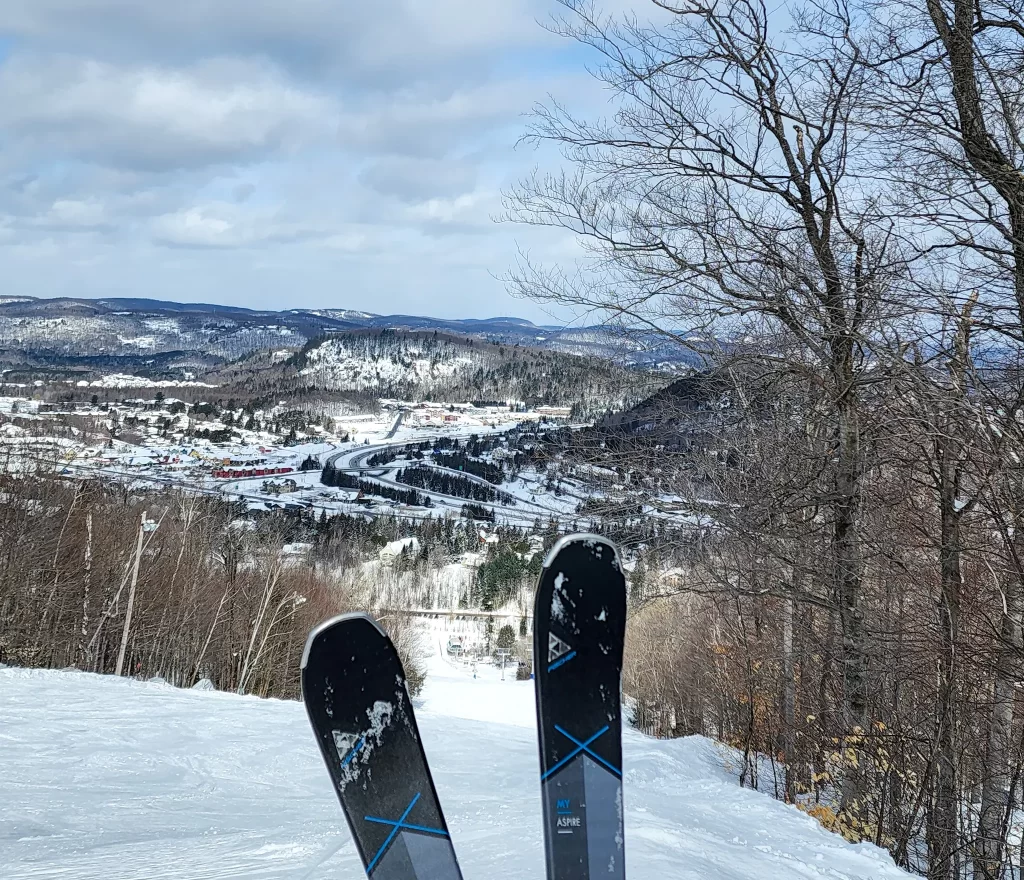 Things to do in Saint-Sauveur
Since you can enjoy Saint-Sauveur all year long, here are the activities to do broken down by season. 
In Winter
For fun winter activities, here's a list. If you're wondering what to wear for winter activities, you can check this article where I detail what you need to stay warm. 
Ski
One of the popular winter activities in Saint-Sauveur is skiing. Les Sommets Saint-Sauveur is frequented by locals who find it a short drive from Montreal. They offer 43 different trails ranging from Easy to Extreme to suit everyone's level. The mountain is open from 8:30am to 10pm so you can enjoy night skiing as well. 
It's interesting to note that you can do other winter activities at Les Sommets Saint-Sauveur, such as Alpine Roller Coasting and Zip Lining in winter. 
Sliding
If you're not a fan of skiing, you can go sliding with your family or friends at Les Glissades Domaine des Pays d'en Hauts. They have 13 sliding zones with 4 levels of difficulty, which makes it fun for everyone. 
Cross Country Skiing and Snowshoeing
If you're a fan of cross country skiing or snowshoeing, less than 10 mins away from Saint-Sauveur, you can enjoy these activities at Morin Heights. Their cross-country track is 162 Km long with 41 different trails. As for snowshoeing, the network is 30km long with 23 different ones. You'll find, for both activities, various levels of difficulty ranging from easy to off-track. 
If you're looking to merge this trip with another one, I would add Mont Tremblant since Saint-Sauveur is halfway through if you're driving from Montreal.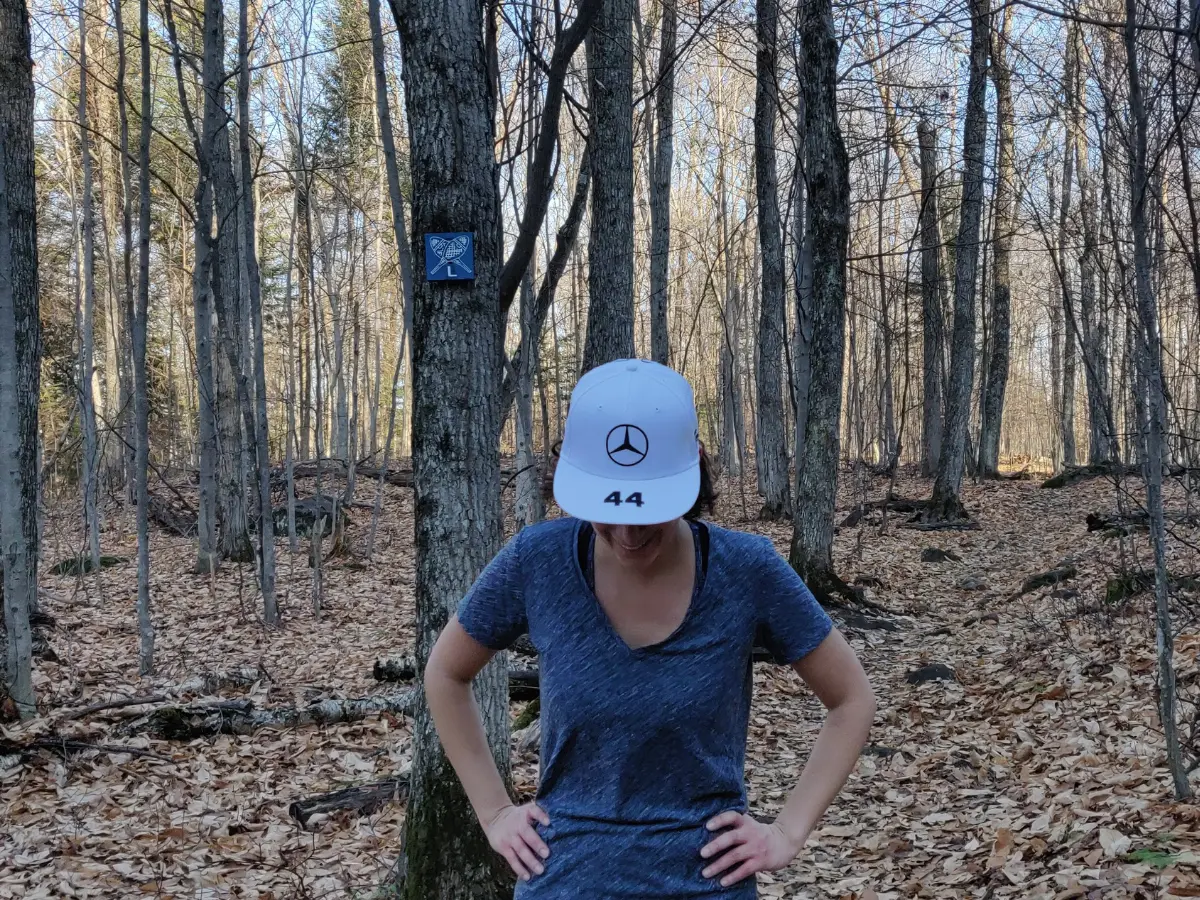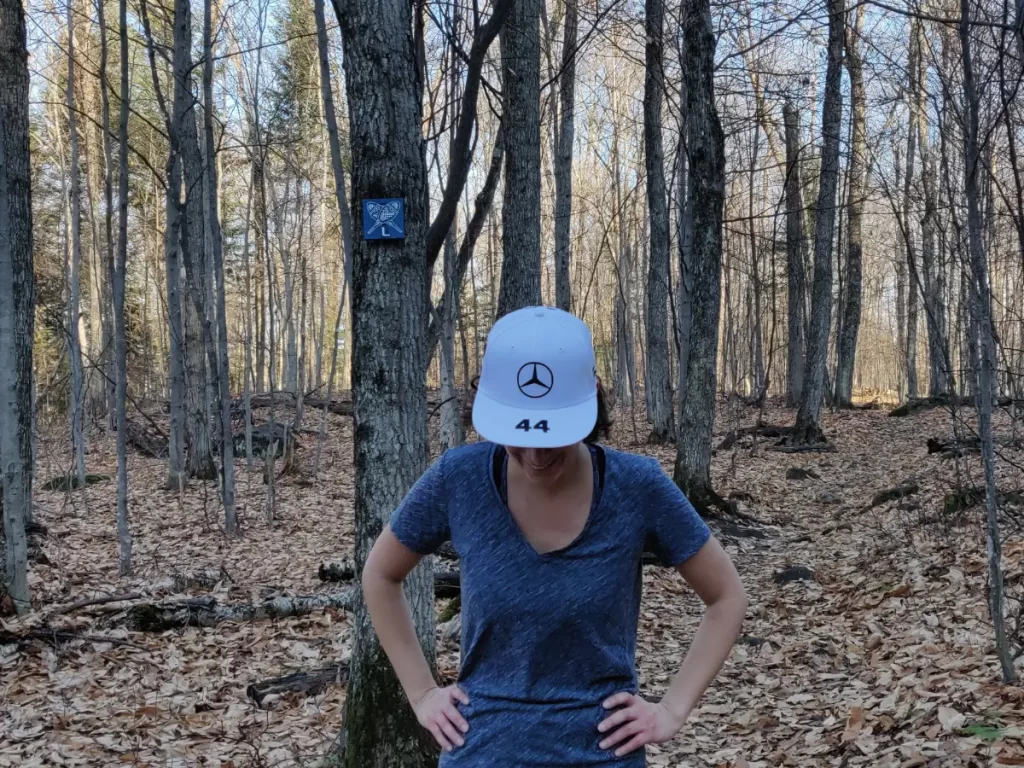 In Summer and Fall
If you're wondering why I skipped Spring, it's because it's almost non-existent in Quebec. Spring is the equivalent of a week. Let's tackle the non-winter activities aside from taking a stroll in the cute rue principale (or main road). 
Hiking
If you enjoy hiking, there are a few recommended parks in proximity to Saint-Sauveur:
Water park
Les Sommets Saint-Sauveur offers a water park in summer with 19 different rides to be enjoyed by everyone. Other activities there include rafting, zip-lining, and summer tobogganing.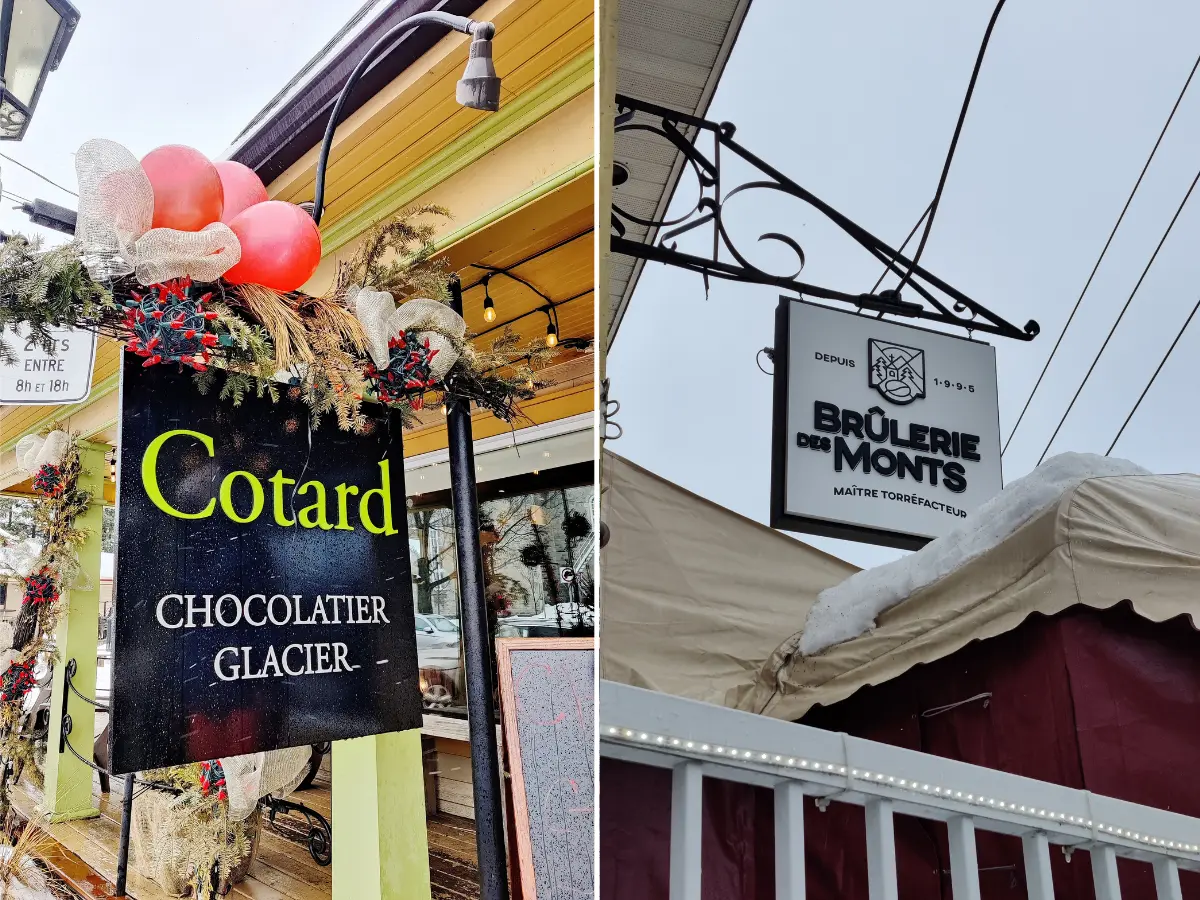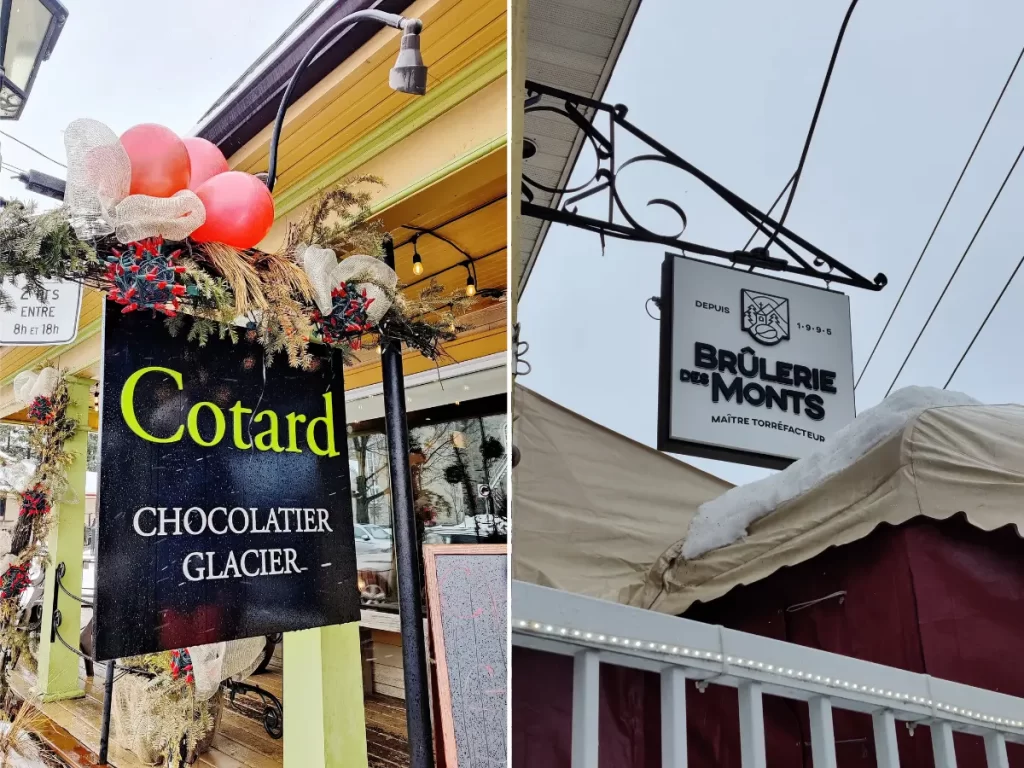 Local Places to Try 
If you're there, why not support local shops. If you take a stroll in the rue principale (or main road), you'll walk along different galleries featuring Quebec Artists, and you'll find a variety of shops that sell clothes, sporting goods, home gadgets, souvenirs, and more.
Aside from shopping and art, you'll find bakeries, coffee shops, butchers, etc. Here's my list of places I frequently visit:
Brûlerie des Monts
For a good cup of coffee, head to the Brulerie des Monts which has the best coffee in town! You can also buy your beans whole or ground. We usually get the Melange Maison (or house blend) or Espresso Nuevo. 
Cotard Chocolatier 
For those who have a sweet tooth, make sure to stop at Cotard Chocolatier and enjoy some of the best chocolate I've ever had (apparently, they are the best chocolatier in Canada! I recommend the Tanzania Truffles and Espresso Garnished Chocolates.
Boulangerie eBou
We had some of the best croissants and bread from Boulangerie eBou. Honestly, this bakery is one of my favorites in and around Montreal. The buttery and flaky croissant made me feel like I was in France.