Whether you're a skier or not, Mont-Tremblant is a must-visit in Quebec. This charming town hosts a ski resort with a European vibe. You kind of feel like you're in Europe. The pedestrian village is very much alive. You see people walking around at all hours of the day; it's worth a weekend getaway. You can enjoy this getaway with your family, friends, or simply with your significant other.
Now, if you're planning a ski trip, I can assure you, you're in for a treat. Mont Tremblant Resort is the largest resort in Eastern Canada, with over 100 ski trails. Experts and beginners will find ski trails suitable for their levels. Regardless of your expertise, you'll enjoy an incredible view of the resort and the Lac Tremblant from the mountaintop. In our case, it was frozen and covered in white. 
Skiing in Mont-Tremblant
Ski lift tickets can be pricey compared to other resorts in Quebec, but then again, it's the biggest resort in the region. You can get cheaper tickets if you book during the "regular" season. You also have the option to book early access to the tracks for an extra 30$. This is beneficial during weekends as it gets very busy and you need to queue for the lifts. The first track ticket gives you access starting at 7:45 am when the slopes open officially at 8:30 am. 
No matter which trail you choose to head down, there are breathtaking viewpoints all along the way. Make sure to have your camera ready!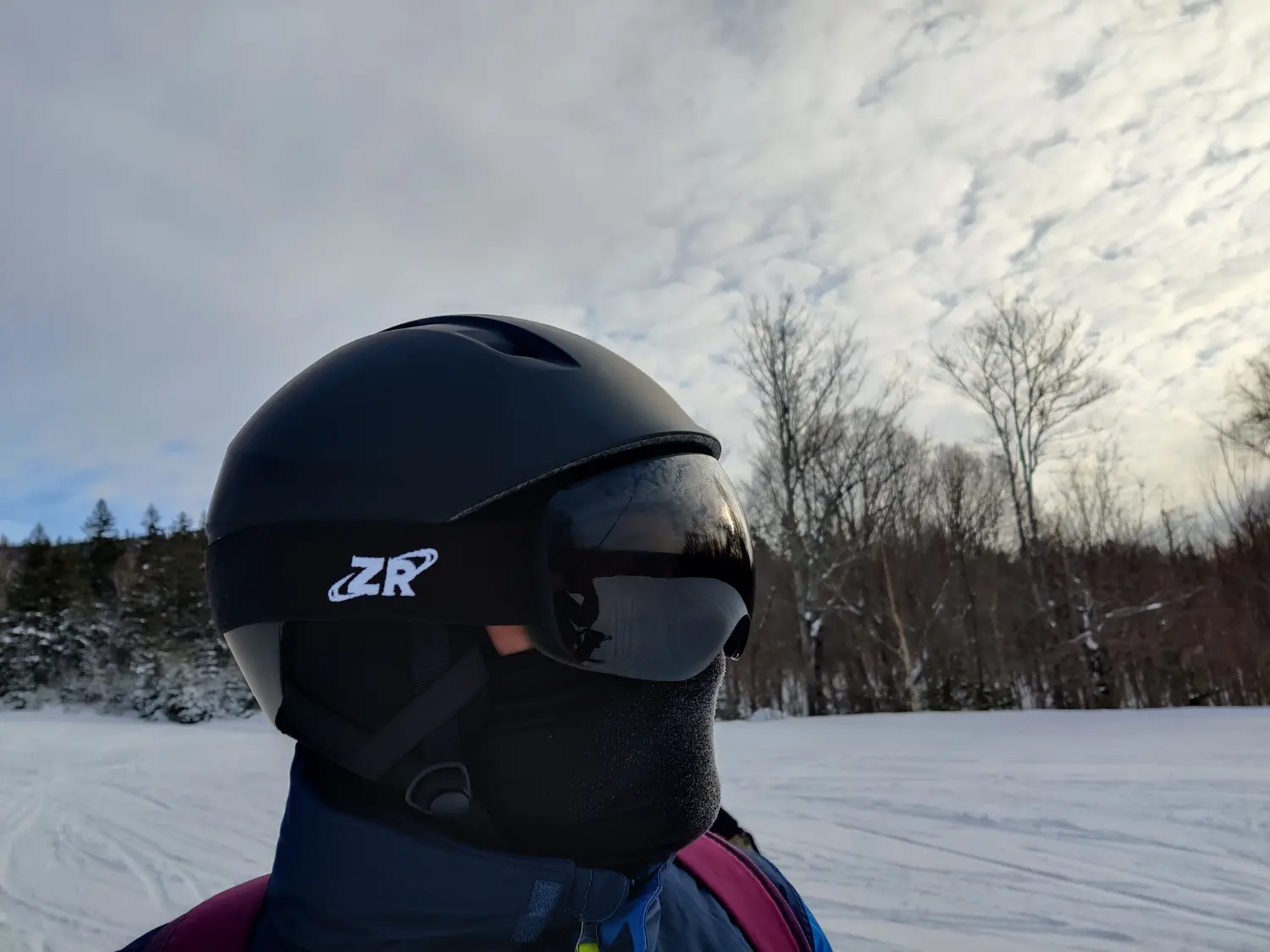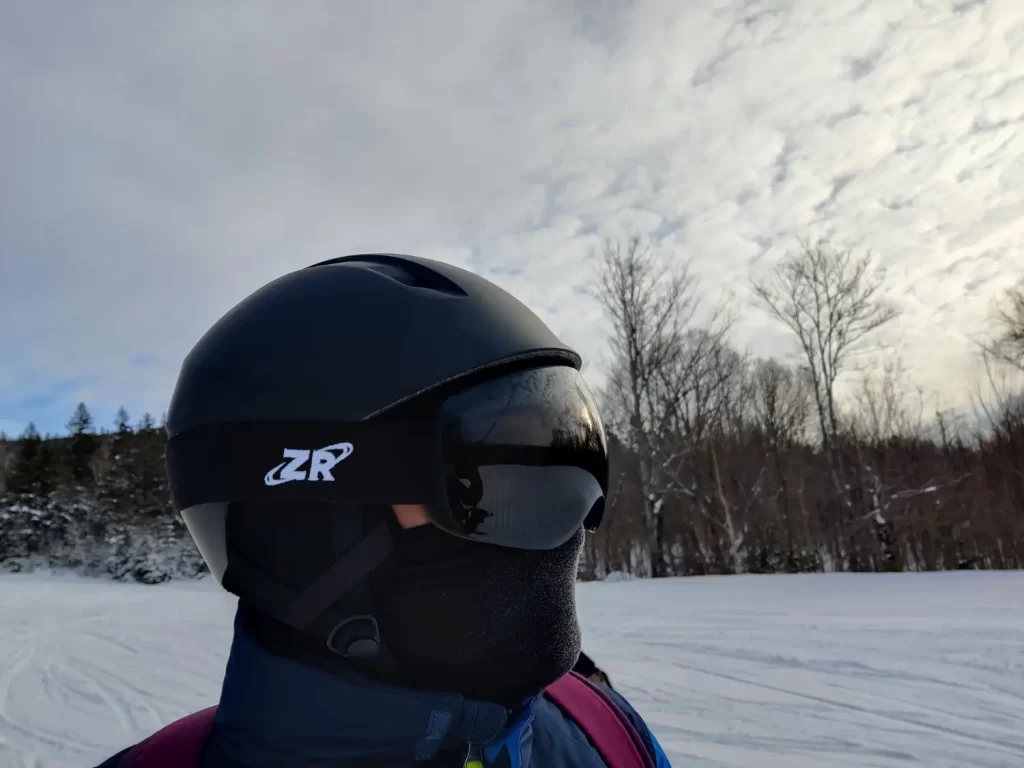 Where to stay
Booking in a hotel as part of the resort has 2 advantages:
You have the opportunity to ski in and ski out, which eliminates the hassle of parking and changing in the car (especially when it's cold). Additionally, you get to have that extra drink(s) to enjoy if you're usually the designated driver.

You get access to the first tracks for free, which is basically early access starting at 7:45 am (regular price 30$ on top of your daily pass).
For Families |
Holiday Inn Express
We stayed at the Holiday Inn Express. Location-wise, it was perfect but, for the price we paid, we were a bit disappointed as the rooms needed to be renovated. If you're looking for a good-priced ski-in and ski-out hotel, you can book there. 
For Couples |
Fairmont Tremblant
If you're looking for a luxurious option, you can book at the Fairmont Tremblant (5 stars hotel). They have restaurants, an outdoor heated pool, and all the amenities luxury hotels offer. 
For a group of friends | Chalet
If you're going with a group of friends, I recommend booking a chalet via Airbnb or Chalet au Quebec. It's more fun to be all together than spread out in different rooms. 
If you want to save money on lodging, you can rent chalets near Lake Moore which is 5-10 mins away from the resort.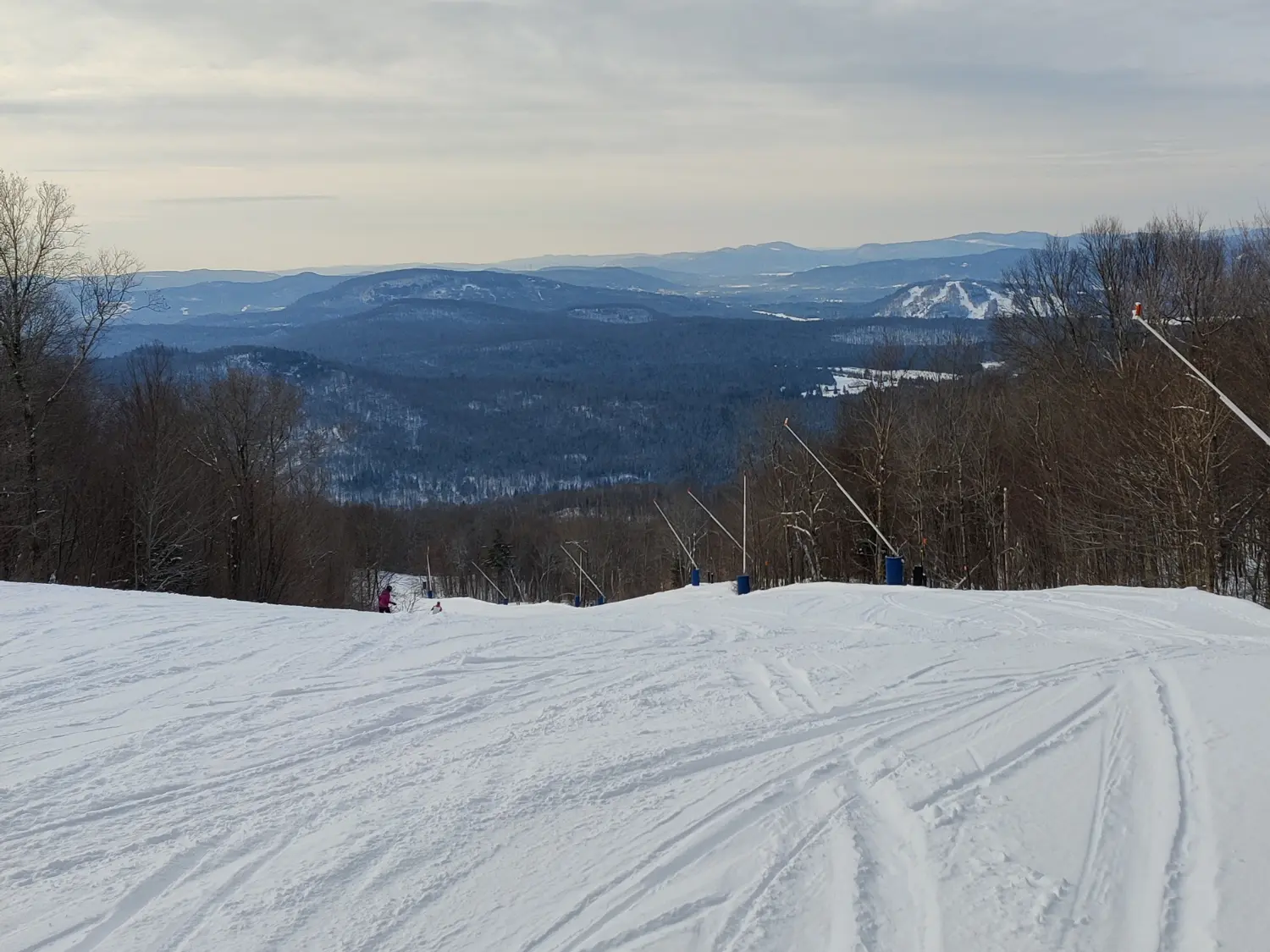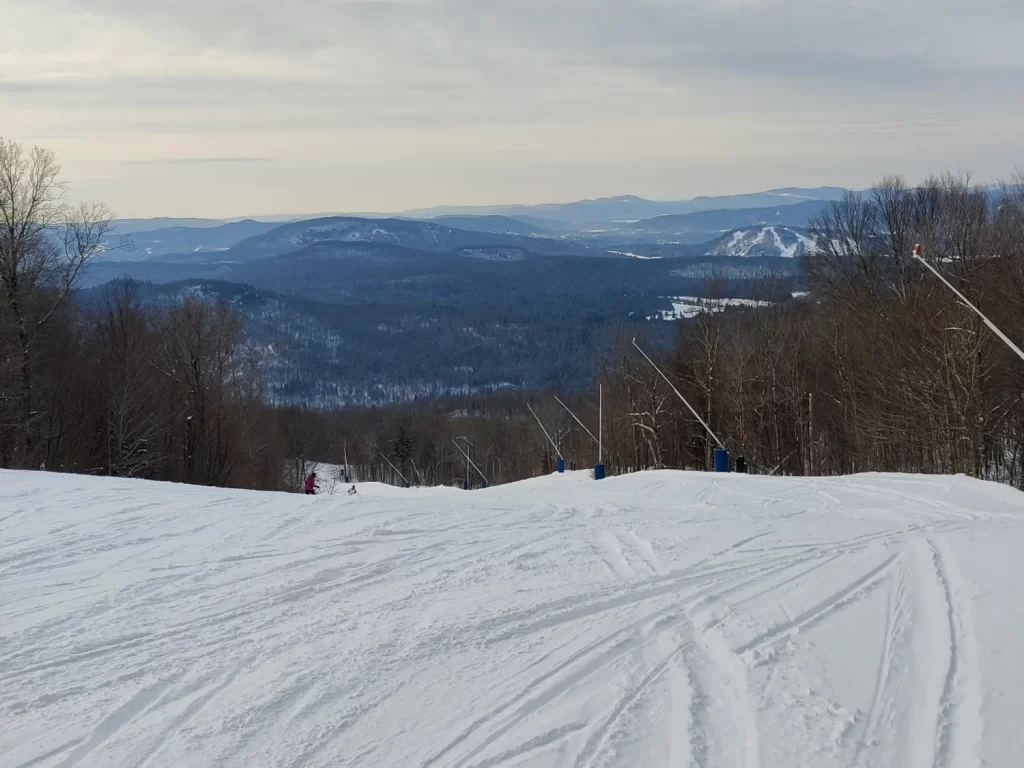 Where to eat in Mont-Tremblant
We like to enjoy a good meal when we're out, so we usually research before picking a place. Here's what we recommend try at the Mont Tremblant Resort:
Microbrasserie la Diable
Microbrasserie la Diable has delicious food and a great ambiance. We had the BBQ Baby back ribs; they come with a caesar salad and fries. We swapped the fries with some poutine, and oh. My. God. It was worth it! I'm not a huge fan of poutine (please forgive me), but this one was so good! Also, the Ribs TO. DIE. FOR! 
La Savoie 
La Savoie, a French Alps experience in North America. They have on their Menu the typical Raclette and Cheese Fondue. We usually prepare both at home so, we opted for a broth Fondue which was new to us and quite good!
Le Grand Manitou
On the top of the mountain, you can take a break and enjoy a quick fast food style bite or a cup of hot chocolate with an incredible view at the "Le Grand Manitou."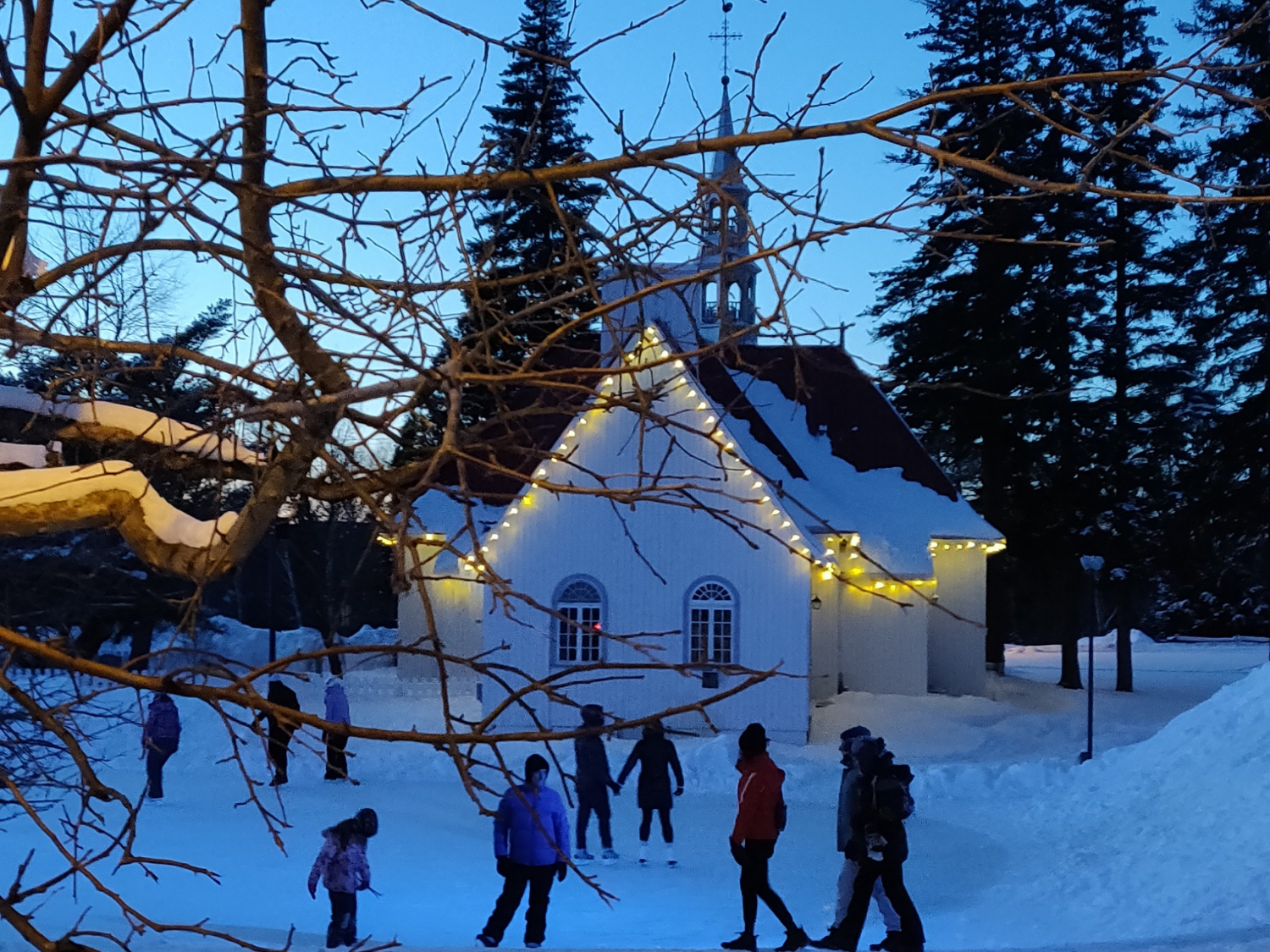 Other Winter Activities to do in Mont-Tremblant
If you're not a skier, there are other activities that you can enjoy in and around the Mont-Tremblant resort. 
Explore the pedestrian village – you can take the "Cabriolet" to the top, grab some hot chocolate, have a walk, check out one of the restaurants for some apres-ski.

Ice skating – there's a small outdoor ice ring as part of the resort where you can rent equipment as well.

Sliding on the ice at the "Jardin de glace" – ideal for kids! They even have ice chairs and tables.

Snowshoeing – There are 7 trails ranging from 1 to 5km

Cross Country Skiing

Dogsledding – Now that's a bucket list item for me! 
Whichever activity you choose to do at Mont-Tremblant, you will not be disappointed.
Don't forget to check the article on what to pack for a ski weekend which includes a printable checklist!