So you booked a ski trip, good for you! Now comes the packing, whether you pack ahead of time or the night of, this article is for you. 
Starting with the basics to stay warm, talking ski equipment and ending with a complete checklist. This article is your ultimate guide to pack for a ski weekend or trip. 
Ski Clothes to Stay Warm
The key to staying warm while skiing is in the layers, but not any layers. Here below you'll find what you need to wear from top to bottom to avoid feeling cold and enjoy your beautiful trip. 
Balaclavas And Neck Warmers
The balaclava needs to be synthetic, make sure it covers your head and face. An additional neck warmer is recommended for the extra cold days i.e. -15C (5F).
Synthetic Or Merino Wool Base Layers – Top and bottom
The base layer is the first layer you wear and it needs to keep you warm so make sure it's synthetic or merino wool based (avoid cotton at all costs). 
Fleece Mid Layer Jacket or Turtleneck
A Mid layer in fleece will keep you warm on those cold days. If you opt for a jacket, you can easily remove it if you end up feeling hot. 
Make sure the pants are good quality waterproof ski and that you can easily walk in it while wearing the base layer underneath. 
A good waterproof and breathable jacket would do. It'll protect you from the cold so you might want to invest in a good one.
Depending on the temperature, you might want to double up by wearing liners and then waterproof ski gloves or mittens. Personally, I wear mittens as my hands are always cold. 
Choose synthetic (nylon or polyester) or Merino wool-based socks to stay warm and keep your feet dry. 
Pack hand and feet warmers for each day + extras as you might need them, especially if you're skiing in North America in January or February.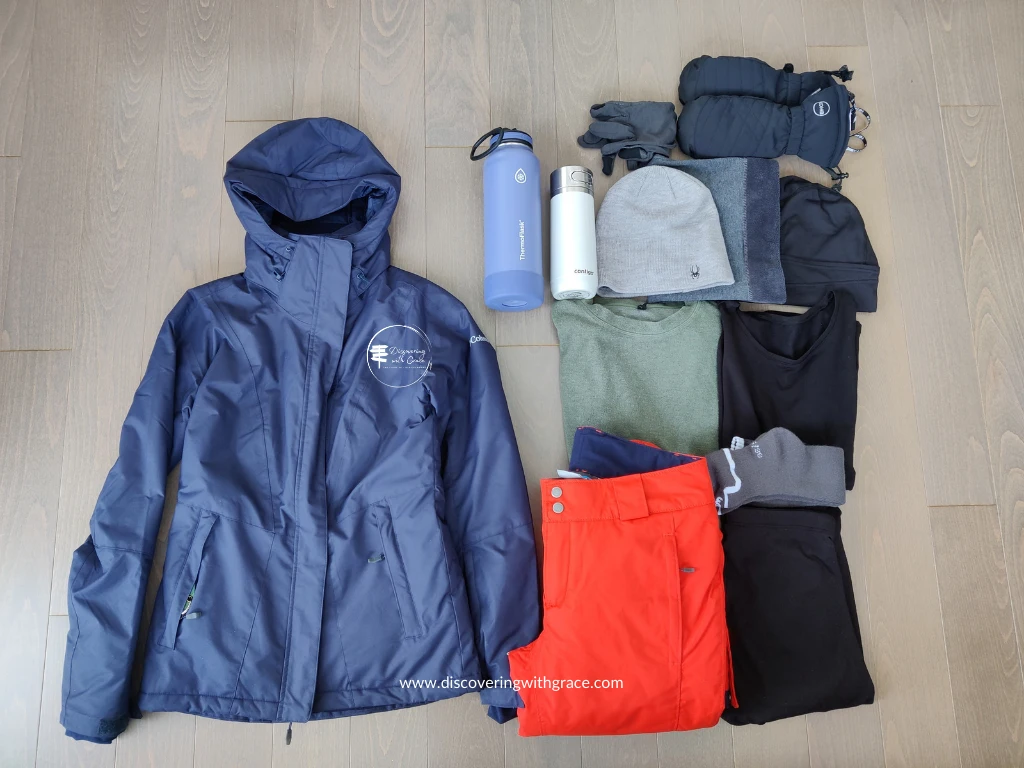 Ski Equipment
Safety first! Don't forget to pack your sturdy helmet to keep you safe on the slopes.
I usually pack them in a specific ski bag to protect them.
There are specific backpacks to pack your shoes to easily carry them
You can add them to the ski bag as well.
Don't forget to pack the right goggles lenses for the weather.
Apres Ski Clothes
Because there's no ski trip is fun without an après ski, you need to make sure you pack clothes for the afternoon/evening in or around the resort. 
Clothes to pack: 
Fleece leggings as a base layer 

Pants or jeans

Jumpers or thick sweaters 

Thick Socks

Beanie

Underwear

A Bathing suit for the hot tub

Pajamas 

Slippers
Accessories
Aside from clothing and ski equipment you need the following accessories: 
Cosmetics & Hygiene
Toothbrush

Toothpaste

Shampoo

Luffa

Soap

Creams 

Sunscreen protector 

Menstrual tampons or pads for women
Looking to plan a winter getaway in Mont Tremblant? Read the latest article: How To Plan A Ski Weekend In Mont Tremblant.
Click on the link below to download the complete checklist.